PM Ivanishvili attends the World Economic Forum
By Ana Robakidze
Friday, January 25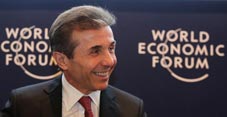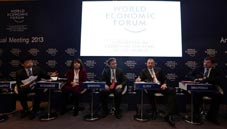 Georgian Prime Minister Bidzina Ivanishvili is visiting the Swiss ski resort of Davos to participate in the annual World Economic Forum.
Ivanishvili, who is accompanied by Foreign Minister Maia Panjikidze and Minister of the Economy Giorgi Kvirikashvili, held bilateral meetings with leaders of a number of countries on the sidelines of the World Economic Forum.
Russian media sources report that at one of the meetings Ivanishvili and Russian Prime Minister Dimitry Medvedev met and exchanged a few words.
When asked whether he planned to meet Medvedev, Ivanishvili replied that unless they accidentally meet somewhere in Davos he will not be meeting his Russian counterpart. However, Ivanishvili has been invited to a Russian breakfast on January 25th. The Georgian Prime Minister mentioned that his main interest during the breakfast will be attracting investment from Russia. "The business elite will be there. I'm interested in investments and there will be a lot of acquaintances there. I think I'll go there and let you know if something happens by chance." He said.
Ivanishvili delivered his speech at the forum's annual meeting and spoke about potential economic growth, the challenges of inter-regional integration and the advantages of the energy sector.
Georgian PM mentioned the rapid economic development of Central Asian countries and the fact that Georgia is involved in many related projects. The connection of Eastern and Western markets is not the only goal of these projects, but also the development of communications, transportation and technology.
PM said that it is important to establish a tariff policy acceptable for the countries of the South Caucasus as well as Central Asia. This will help to strengthen and develop the transit potential of the countries in these two regions. In his speech Ivanishvili offered to set up regular meetings on a government level, to help in exchanging information and harmonization all procedures.
While commenting about his visit in Davos Ivanishvili said that he had numerous meetings planned with the business elite and international funds and his goal was to make his country interesting and attractive for international businesspeople. "I have a very precise plan regarding business issues." he said, promising that investments in Georgia will increase and the process of economic prosperity will begin.
Economy Minister Giorgi Kvirikashvili, told journalists that Georgia should renew economic relations with Russian companies, and therefore the Davos forum is an opportunity to talk to representatives of Russian companies. "We will have interesting meetings with Russian companies and though we have political problems with Russia we should still renew economic cooperation without making any political compromises." Kvirikashvili stated.
Director of the Georgian National Investment Agency Giorgi Pertaia, who is also in Davos, confirmed that the Georgian delegation had a meeting with representatives of the Russian Business Association. He also announced that his agency would hold a business forum in Tbilisi and invite Russian companies to participate.
Ivanishvili attended the event organized by The State Oil Company of the Azerbaijan Republic (SOCAR) and held a meeting with the Minister of Foreign Affairs of Turkey Ahmet Davutoglu. The Georgian PM also met with billionaire, investor and philanthropist George Soros.
PM Ivanishvili participated in the informal meeting of world leaders. He also held meetings with Israeli President Shimon Peres, Ukraine President Viktor Yanukovych and Lebanse PM Najib Mikati, met with the directors of India-based Company TATA, Russian Oil Company Lukoil and Black Stone Group is also on the agenda of the PM.