PACE members undergo fact-finding mission
By Ana Robakidze
Tuesday, January 29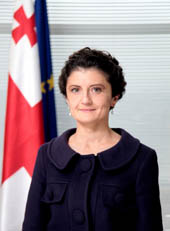 Michael Aastrup Jensen (Denmark, ALDE) and Boriss Cilevics (Latvia, SOC), co-rapporteurs of the Parliamentary Assembly of the Council of Europe (PACE) for the honoring of obligations and commitments by Georgia, undertook a fact-finding visit to Georgia from December 5-7, 2012 and recently their report on the country was published as a confidential document and available only for Parliamentary Assembly members.
The primary mission of the co-rapporteurs was to study the new political situation in Georgia. "The political environment has changed dramatically as a result of the change of power during the latest elections," the report says.
The authors of the document are concerned about the possibility of cohabitation. "As a result of this constitutional context, the cohabitation between the President and the government has been difficult and at times acrimonious. No side is free from blame in this respect. Both sides refer to each other as opponents, in contradiction with their constitutional relationship and accuse the other side of undermining their work and constitutional role. Regrettably, the polarization and rhetoric that characterized the election campaign has not been overcome." The co-rapporteurs also provide their view of factors that is influencing the difficult cohabitation. It is "the mutual fear that the other side will use extra-legal means to change the results of the last election."
The Parliamentary Assembly co-rapporteurs find it to be a troublesome fact that a number of "leading members of the opposition and ministerial officials were arrested for alleged crimes committed under their responsibility during their tenure in office." "These arrests and prosecutions are of serious concern," the report reads. The document advises that there should be no impunity for the crimes committed. However, an investigation should be conducted impartially and with full transparency.
Commenting on the report, Georgian Minister of Justice, Thea Tsulukiani, said PACE should be pleased that the Georgian parliament has considered the criteria of the assembly for defining political detainees. The minister said the Council of Europe should also welcome the fact that Georgia is its first member country that fully follows the texts and principles adopted by the Council. Tsulukiani once again denied any political persecution against the former officials. She said the court is in "political opposition" with the Georgia people and the government because they release the accused people on bail which was not the case during the former government.