Looking for solutions over Georgia's problems
By Messenger Staff
Friday, February 1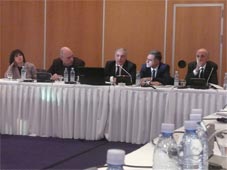 Presentation of the project "Modernization of the Country, Democracy and Challenges" organized by the European Initiative Liberal Academy Tbilisi took place at the Sheraton Metekhi Palace Hotel on January 31st.
The presentation contained the reports of experts covering different fields of the country's political situation, economy, media, etc.
Davit Losaberidze from the Caucasus Institute for Peace, Democracy and Development discussed the issues of democracy and self-government in Georgia. Deputy Justice Minister Alexander Baramidze spoke about the reforms carried out in the court system.
Executive Director of the Georgian Council of the Charter of Journalistic Ethics Tamar Kordzaia spoke about the problems the Georgian media faces in striving for journalistic freedom. Mikheil Tokmazishvili from the Liberal Academy presented his views on economic transformation in the last twenty years since Georgia regained independence.
The most memorable presentation was that of Gia Khukhashvili of the Georgian Development Research Institute who revealed the anatomy of state and business relations in Georgia's recent past.
During the question and answer session different ways of overcoming the difficulties were discussed. Editor-in-chief of Rezonansi newspaper Lasha Tugushi moderated the event. Representatives of state bodies, NGOs, independent analysts, the diplomatic corps and media participated in the event.