PM Ivanishvili visits the Defense Ministry
By Ana Robakidze
Thursday, February 7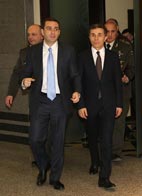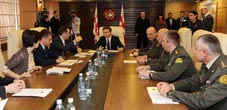 Minister of Defense Irakli Alasania hosted Prime Minister Bidzina Ivanishvili on February 6.
The official web-page of the Defense Ministry reports that Ivanishvili visited a command center at the ministry and he had a video conference with the commanders of the Georgian peacekeeping contingent participating in the ISAF mission in Afghanistan. The PM thanked the Georgian military leadership in Afghanistan for their service and contribution. "We are well aware that you are serving your country. We are proud of the fact that you and our armed forces are engaged in the process of maintaining international security. You are doing a great favor to the motherland and to the world in general." Ivanishvili told the commanders.
The PM also addressed to the commanders of various military units which are stationed in Georgia. "The Georgian Government and your minister are doing their utmost to enable the soldiers to serve their homeland in a dignified way."
Alasania and the leadership of the joint staff presented a long-term development plan to the PM. The plan is mainly oriented on developing logistics, education and infrastructure.
Ivanishvili spoke to the media after the meeting and said that Georgia will have a completely professional army by 2016. The PM mentioned that the new minister has made possible a 25% increase in salary for the majority of the military forces. However, the army still has a difficult situation regarding the infrastructure. "We will help Irakli to source additional funds and fix the problem," Ivanishvili said. The PM is satisfied that the level of education is gradually been increased in the Georgian Armed Forces.
After the meeting Alasania said that the Georgian professional army, which should be completely formed in about four years, will fully correspond with NATO standards. He also mentioned that PM Ivanishvili fully supports the planned reforms in the military system.
Establishing the professional army is not going to be the only important change in the military system. The Ministry of Defense recently announced at a briefing that enlistment in the contract-based military service has started.
Deputy Defense Minister Tamar Karosanidze said: "A contract will be awarded for a 4 year term. Throughout these years, a military servicemen's salary will be 700 GEL. In a short period of time remuneration is planned to increase by 20% and perhaps more. The benefits offered by the MoD will also include health insurance for soldiers and their family members. The military will be able to undergo various courses both in Georgia and abroad. In case of continuing service, the Mod offers military servicemen more social guarantees."
The ministry reports that the basic military training course recruits will have to undergo takes 12 weeks. 9 weeks will be devoted to individual training, 3 weeks-to specialized military/combat training. The upcoming course will launch in March. After successfully completing the course, future military servicemen will start service in various units of Georgian Armed Forces.