Latvia delegation visits Georgia
By Ana Robakidze
Tuesday, February 12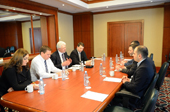 Delegation of the Saeima of Latvia is visiting Georgia. The delegation arrived in the country on February 10 and held meetings with of the parliamentarian Davit Usupashvili, Chairman of the Foreign Relations Committee Tedo Japaridze, Chairman of the Committee for European Integration Victor Dolidze and representatives of the parliamentary minority and the majority on the same day.
The meeting between the Chairman of the Committee on Foreign Affairs of the Latvian Saeima, the member of the Latvia-Georgia Friendship Group, Ojars Eriks Kalnin and the Chairman of Parliament with David Usupashvili was held in the Public Service Hall in Tbilisi.
"Relations between Georgia and Latvia serve as a good model. We have agreed that it is impossible to put this relationship under a shadow or damage it," Kalnin said after the meeting. He also stated that the Latvian parliamentarians confirm that after the Parliamentary elections, the aspirations of Georgia to the West, Europe, Euro-Atlantic orientation is still unaltered, the events are developing in an ordinary way and the Latvian Saeima once more confirms its support of Georgia.
"Latvia remains a strategic partner," Usupashvili said after the meeting. He told the media that the Latvian delegation is interested in the settlement of Georgian-Russian relations and first of all in restoring trade relations between the two countries.
Kalnin met Tedo Japaridze and representatives of the Foreign Relations Committee of Parliament in the Courtyard Marriot Hotel.
The parties discussed plans for future cooperation. According to Japaridze, the Baltic region, including Latvia, is a very important partner for Georgia and their support thereof is of the utmost importance.
The representatives of the Saeima discussed the upcoming Vilnius Summit, free trade and other fields of relations at the meeting with Victor Dolidze the Chairman off the Committee on European Integration.
"Latvia supports the ongoing positive changes in Georgia, also our full-fledged integration to European and Euro-Atlantic structures and I am happy for the support," Victor Dolidze stated after the meeting.
Representatives of the Saeima held a meeting with the State Minister of Euro-Atlantic Integration Alexi Petriashvili on February 11, where the parties discussed Georgia-EU relations within the framework of the Eastern Partnership and integration with NATO. The Latvian delegation was informed on the process of elaborating the Annual National Program (ANP) and the steps Georgia is going to take in 2013 on the way to integration with the alliance.
The Georgian State Minister once again reaffirmed to the Latvian delegation that Georgia's foreign policy remains unchanged. Georgia is committed to future integration with NATO, as well as normalizing relations with Russia.
The Latvian delegation will also meet with Prime Minister Ivanishvili within the framework of their three-day official visit.