Eastern Partnership informal dialogue meeting held in Tbilisi
By Ana Robakidze
Wednesday, February 13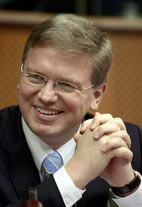 Tbilisi is hosting the second meeting of the Eastern Partnership informal dialogue. Senior officials of the European Union, Commissioner for Enlargement and European Neighbourhood Policy, Stefan Fule, Deputy Secretary General for the External Action Service, Helga Schmid and vice president of the European commission, Siim Kallas, have all arrived in Georgia to participate in the meetings. The Georgian side is presented by Minister of Foreign Affairs of Georgia Maia Panjikidze and Minister of Economics and Sustainable Development George Kvirikashvili.
The participants will discuss the many issues related to the further development of the Eastern Partnership, in particular in the transport sector.
Stefan Fule spoke to the media before the start of the dialogue and said that a similar format of the meetings helps to deepen relations between the EU and its partners. He also mentioned that the informal dialogue of the Eastern Partnership is being held during a very important period in Georgia.
"The Eastern Partnership summit is due to be held in Vilnius in November. I expect our relations with our partners will yield results," Fule said. According to the commissioner, the sides will discuss the possibility of simplifying the visa regime with EU for Georgian citizens and establishing free trade relations.
Fule is expecting a positive result from the Vilnius Summit. "We expect that the Vilnius summit will yield actual results, and we will manage to sign an Association Agreement with Georgia, Moldova and Armenia. There is progress in the negotiation process with Azerbaijan too." He said. Fule also spoke about cohabitation and the challenges it may be accompanied with. However, he is sure that Georgia will still follow the chosen path of reforms.
The Georgian side also finds the dialogue to be of high importance, as it is being held ahead of the Vilnius Summit 2013, and helps the Georgian delegation to be better prepared for the summit.
The European Union will allocate 20 million Euros to Georgia. The agreement was signed by Stefan Fule and State Minister for Integration into European and Euro-Atlantic structures, Aleksi Petriashvili on February 12. The funding will help the institutional development in Georgia. The project will be active until 2016. According to Fule the idea of promoting overall institutional development in Georgia was born within the framework of the Eastern Partnership.
After the first meetings with EU high officials on February 12, the Minister of Foreign Affairs Maia Panjikidze spoke with the media about the importance of the informal dialogue. "This is a very important event on the way to European integration. We discussed very interesting and important issues at today's meeting," she said. Panjikidze also said that the dialogue will continue on February 13, at the Ministry of Economy and Sustainable Development of Georgia.