UNDP Administrator Helen Clark visits Georgia
By Ana Robakidze
Tuesday, February 19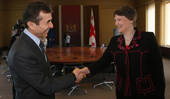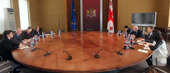 The United Nations Development Programme's Administrator Helen Clark is paying a visit to Georgia. On February 18 Helen Clark met with Georgian PM Bidzina Ivanishvili and Chairman of The Georgian Parliament Davit Usupashvili.
PM Ivanishvili said at a joint press conference that Clark once again expressed her support to the new government and willingness to cooperate and she is ready to continue working on new UN projects together with the Georgian government. The parties agreed to cooperate for the development of media, as well as for the better protection of human rights and the improvement of electoral system in the country.
"UNDP wants to continue to support the democratic transformation... I think we can be very good partners for Georgia," Clark said. She once again emphasized the great potential the country has in many fields– especially in agriculture and mentioned that the UNDP strives to work for Georgia by helping the development in various fields, such as the electoral system, the justice sector, social protection and legislation (including constitutional amendments). Clark wished Georgia the very best in every respect, including integration with the European Union.
"We spoke about the projects that will be carried out in the Parliament of Georgia, because the parliament needs more knowledge and experience. We also talked about the current developments in Georgia. And of course we talked about the new government's policy which will be beneficial for people," Usupashvili told members of the media after the meeting.
Clark, became the administrator of the UNDP in April 2009 and is the first woman to lead the organization. Before arriving to Georgia she said she was glad to come and meet with the president, prime minister and other ministers.
Clark and PM Ivanishvili met at the State Chancellery. Cihan Sultanoglu, Director of Regional Bureau for Europe, Commonwealth of Independent States, Deputy Chief of Staff and Jamie McGoldrick, UNDP Resident Representative and the UN Resident Coordinator in Georgia also attended the meeting with the PM.
During her three-day visit Clark will meet top government officials, politicians, representatives of civil society and key donor agencies to discuss Georgia's progress on the path to democratic transformation and to pledge UNDP's support to democratic reforms and economic development in the country.