UNDP head impressed with Georgia's progress
By Ana Robakidze
Wednesday, February 20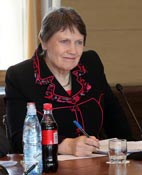 Georgian Patriarch Ilia II hosted the United Nations Development Programme's (UNDP) Administrator Helen Clark at Svetitskhoveli residence in Mtskheta on February 19.
The patriarch spoke with Clark about Georgia's willingness to integrate with the European Union and emphasized the importance of cooperating with the United Nations and other international organizations.
"We will do everything possible to keep in close contact with the UN. You promote economic and political development in Georgia," the patriarch told Clark. He also mentioned that many young Georgians receive their education in the West, trying to gain knowledge, study European culture and be introduced to European structures.
Ilia II also spoke about the remaining problem of territorial integrity. "It is very difficult for us to accept the fact that the territorial integrity of Georgia has not been restored yet. Abkhazia and Tskhinvali are Georgia's open wounds. We hope the territories which have been taken away from us will be returned soon. As with Abkhazia, Tskhinvali is also the oldest territories of Georgia," Ilia II declared at the meeting.
The Patriarch spoke about the oldest culture of Georgia and the Orthodox Church of Georgia, noting that Georgia has been protecting its culture, language, land and independence for many centuries.
Helen Clark addressed the patriarch by saying that he is the spiritual leader of the Georgian people. Clark mentioned that dialogue should be the only way to solve internal confrontations in the country and thanked the patriarch for supporting the same idea.
"We are amazed by the success the Georgian people are reaching in this transition period," Helen Clark said, adding that while visiting the Kakheti region, she could clearly see the great agricultural potential Georgia has. She hopes that Georgian politicians will focus on the most important fields of development, such as agriculture.
Helen Clark also met with President Mikheil Saakashvili on February 19th. The meeting was closed for the media; no joint press conference was held after.