UNDP head spends first day in rural Georgia
By Etuna Tsotniashvili
Wednesday, February 20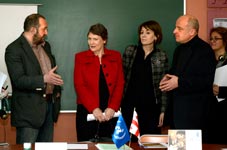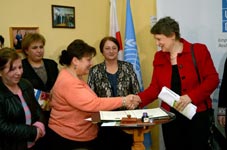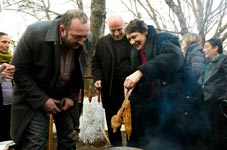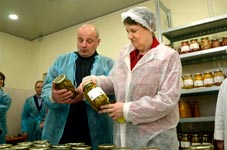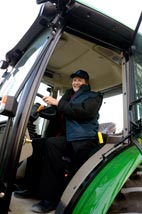 Administrator of the United Nations Development Programme, (UNDP), Helen Clark, visited a professional college in the village of Kachreti, in the Kakheti region on Sunday, as part of a three-day visit to Georgia.
The campus, which includes a number of agriculture facilities including a wine bottling factory, food processing plant, farm and a freezer for farmers, was launched with the support of the UNDP.
During her visit, Clark along with other UNDP officials and Georgian Minister of Agriculture, David Kirvalidze and Minister of Education and Science, Giorgi Margvelashvili, met students and teachers of the college, as well as some local farmers who receive professional consultations from the UNDP-supported agriculture extension service. She attended a practical training course for agriculture machinery operators and joined a ceremony that marked the launch of the Kakheti Association of Women Farmers.
"Georgia has rich agricultural potential but it takes long to invest in favor of agriculture. I think that the kind of training that is done here is very important in modernizing this sector," Clark stated at the meeting."I am very excited by the agricultural emphasis I keep hearing about and the work that UNDP has been supporting in vocational training. I come from a country that is rich in agriculture and I know Georgia has great potential for its products. I really think that what we see here is part of a chain that will eventually lift the productivity and potential of Georgia," she added.
"The professional college and the agriculture extension center in Kachreti is a great example of close cooperation between the ministries and international partners. The centers such as this one inKakheti help us to return what we have lost – the regional development process," Giorgi Margvelashvili said, adding that for him this is especially pleasant when high ranking officials such as the head of UNDP visit Georgia's regions and agriculture facilities.
Agriculture Minister David Kirvalidze emphasized the importance of having professional staff in the agriculture sector. According to him, mass reforms and the implementation of projects are beginning now, and these definitely require professional staff.
"Today's visit is particularly important because the UNDP is one of the major supporters of Georgia's agricultural sector. We believe that our cooperation with the United Nations will be more effective and successful in the future," he said.
The UNDP has been supporting this region since 2007. Quality professional education is very important for local economy. This college provides services, advice, and support to communities and people who are looking for jobs or for better employment. The key goal is to help farmers obtain new technologies in order to improve their productivity, improve their income – and thereby promote development in the region.
"UNDP has been in Georgia for 20 years and will continue its assistance to the democratic transformation of the country. Helen Clark is here to discuss the work that can be done with UNDP and other development partners to in many areas of democratic governance and economic development," UNDP Resident Representative in Georgia, Jamie McGoldrick, said.
Helen Clark is the former Prime Minister of New Zealand and a former long-serving parliamentarian. She became the UNDP Administrator in 2009 and is the first woman to lead the organization. Helen Clark chairs the United Nations Development Group which coordinates across the UN funds, programs, agencies and departments working on development issues.
She met with the President Mikheil Saakashvili and Prime Minister Bidzina Ivanishvili and other top government officials, politicians, representatives of civil society and key donor agencies to discuss Georgia's progress on the path to democratic transformation and to pledge UNDP's support to democratic reforms and the economic development of the country.