Saakashvili pays an official visit to Azerbaijan
By Ana Robakidze
Friday, March 1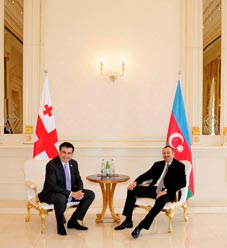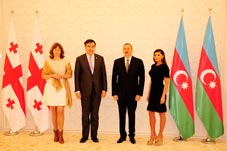 Deepening relations and promoting joint projects between the two countries were the major topics President of Azerbaijan Ilham Aliyev and President of Georgia Mikheil Saakashvili discussed in Baku on Wednesday.
The presidents held a private meeting on February 27th, which was followed by extended public meeting with delegations participating. According to the official website of the Azeri President, the topics of discussion included various bi-lateral projects in different spheres.
Both parties agreed that partnership between the two countries, especially in the economic sector, is vital for the region.
After the second meeting both presidents held a press conference.
Saakshvili stressed the importance of the projects Georgia and Azerbaijan are involved in, such as the Kars-Akhalkalaki and Baku-London railways. He hopes the railway projects will be finalized by the end of the year, as they will provide a window to Europe for both countries. Assessing the railway projects as a "geo-political revolution" Saakashvili said that projects will bring about a historic chance for both countries to finally join Europe.
"Security, stability and tranquility in the region mostly depends on the goodwill of both countries. Our successfully implemented projects play an important role in strengthening our countries as truly independent states." Azeri President Ilham Aliyev said at the official reception. He emphasized that the successful strategic partnership between Georgia and Azerbaijan will continue.
"As active participants in energy and transport projects of global concern, Georgia and Azerbaijan play an important role both spheres. Projects in the energy and transport sectors strengthen our countries, serve the welfare of our peoples and at the same time have a positive effect on regional processes. The joint project has a particular importance for the development of stability, peace and cooperation in the region…Together with you, we have made great efforts to address energy issues and have made great strides. Laying oil and gas pipelines, addressing energy security - all this is possible thanks to our joint efforts." Aliyev said.
Saakashvili assured the Azeri government that the friendship of the countries will continue, no matter who is in charge of Georgia.
As part of the official visit, Saakashvili and members of his delegation held meetings with the Chairman of the National Assembly (Milli Majlis) of Azerbaijan Oktai Asadov and members of the Assembly.