German photographer visits Georgia
By Ana Robakidze
Tuesday, March 5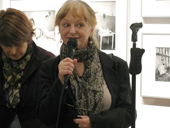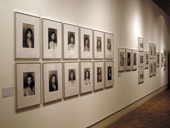 The Tbilisi Museum of History is hosting an exhibition of famous German photographer Helga Paris.
The exhibition, which was opened March 1, displays the work created in various countries, including Georgia. Part of the work represents the biography of the artist herself.
Helga Paris who was born in 1938 in Goleniow, Poland, became known for her everyday and socially critical photographs in East Germany and ooccupies an outstanding position within the ranks of German photography. She grew up in Poland and had to witness World War II. Personal biography has had great influence on Paris' art. Her creative ways can be traced from a photographic laboratory. Paris created a costume workshop, also worked in advertising studios and took photos during rehearsals.
During her life Helga made different series of photographs: Berlin pubs, Berlin youth, and Women and men, Podroz Polska. In the 80s she travelled to Georgia and created photos focusing on feminine themes.
Paris found herself in Georgia accidentally. She accompanied her friend, famous German poetess Elke Erb to Georgia, who was a frequent guest in this country. Paris found the country to be very unique and interesting and decided to do an unplanned small series of photos depicting the daily life of the Georgian family she was staying with.
After 30 years from her first visit, she is now back in Georgia and says that she loves the way the country has evolved, meanwhile maintaining the old spirit it has. "I love the contrast of the new architecture and the old, half ruined buildings in Tbilisi," she told The Messenger.
Currently, the photographer has stopped creating new series. She is spending her time travelling and taking photos, but only using a digital camera.
Helga Paris is a master of the portrait genre. "From the beginning I was photographing everything– people, landscapes and everything around, but at some point I noticed that portraying people was the most interesting for me" Paris explained.
The exhibition is presented by the Institute of International Relations (IFA) and the Goethe Institute in cooperation with the Georgian National Museum. It will last through March 23.