Minister Narmania discusses 200 million projects with regional governors
Monday, March 11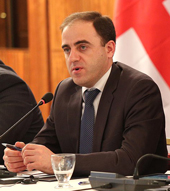 The Minister of Regional Development and Infrastructure, David Narmania and Deputy Minister Shota Murgulia, met the chairpersons and members of councils of the municipalities of Kakheti, Shida Kartli, Kvemo Kartli and Mtskheta - Mtianeti. The procedures of preparation and submission to the Government Commission of the projects, which should be implemented in 2013 and financed by the regional projects fund, have been discussed at the meeting.
The heads of the municipalities informed the minister and his deputy about the problems they intend to solve with support of this fund. Also, they received information about the criteria of the projects submitted by them. In 2013, 200 million was allocated for regional projects, 140 million more than was allocated in 2012 for the same fund. In addition, the priorities of the project proposals were defined – the amount will be allocated to fund construction– rehabilitation of water systems, bridges, roads, street lighting and so on. The state governor and the self-government units (municipalities) may submit the projects for funding from the Regional Projects Fund. If the self-government submits the project, it should contain activities which are planned to be implemented only in one municipality. In the case of the Regional Project it is possible to include several municipalities in the project. It is necessary that the decision about implementation of the project had been adopted by the council. The project must be discussed and reviewed together with the local population.
The project must satisfy the following criteria:
• General and specific objectives of the project
• Justification of the need to implement the project
• Estimated timeline to implement the project
• Beneficiaries and Expected Results
• Estimated cost of the project
The Governor or the self-governing units have to submit a draft to the Ministry of Regional Development and Infrastructure of Georgia and the ministry will send it to the State Commission for Regional Development. The Commission, in the case of a positive answer, recommends to the government in order to finance the approved projects. It is important that the projects are strictly monitored by the Fund of Regional Projects, to spend the amount received from the fund reasonably. The author of the project self-governing units (municipalities or Governor) submits to the Ministry of Regional Development and Infrastructure the information about the results of implementation of the project within 15 days after the completion of the project. The Ministry for Regional Development undertakes obligation to prepare and publish a report about implemented projects twice a year. At the same time, the State Commission for Regional Development must prepare and submit to the government the recommendations about the priorities.
The process of receiving the project has started and will last till March 11.
(MRDI)