Usupashvili offers sharp reply to EPP
By Ana Robakidze
Thursday, March 14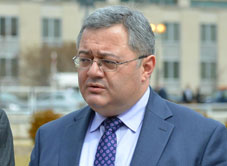 Chairman of the Georgian Parliament, Davit Usupashvili, has responded strongly to the letter of the European People's Party (EPP) addressed to Georgian Prime Minister Bidzina Ivanishvili.
Usupashvili asks EPP members to check the available facts before making accusations and also advises that President Mikheil Saakashvili should not be taken as a standard for European values. "I have asked many of you more than once, and I repeat now: set European standards for us and appraise us against them. We are very much in need of it to free ourselves from post-communism. However, please do not use President Saakashvili and his former regime as a standard, as it would be an insult to Europe. I urge you to abstain from signing statements based on unsubstantiated claims, as you will soon feel embarrassed for your actions," the parliament chairman says in his open letter, published on March 10.
He rejects EPP members' assertion that Georgia's pro-European stance could be threatened by the current administration, intending to adopt constitutional amendments, so the president could not sack a government and appoint a new one without parliamentary approval.
"A call to remove an unprecedented constitutional provision in the democratic world that allows the president the right to appoint a new government without the parliament's consent? Is it an act of threatening or an attempt to harmonize our constitution with European standards? Those who adopted this constitutional provision as early as 2004 and now oppose its abolition – including Mr. Saakashvili - are they pro-European forces or worthy successors to Soviet authoritarianism?"
On March 6, 23 members of the European Parliament from the EPP signed the letter addressed to Ivanishvili, where the MEPs question the methods of the new government and whether Georgia still shares the same basic principles with the European Union. "If your efforts result in deepening of the apparent democratic backsliding, Georgia would be compromised as a democracy and seized from its European perspective. Then you become a person who closes European doors for Georgia." the MEPs address Ivanishvili in the letter, also warning him that "inflammatory rhetoric and the use of mobs to quell political opponents, as well as the frequent use of hate speech towards minorities, only makes Georgia drift away not towards its European dream."
PM Ivanishvili finds the letter to be "shameful." "Being European does not mean they all are democrats and should teach us. He also commented on the letter Usupashvili addressed the MEPs with and said that the tone of Usupashvili's letter was acceptable for him and also revealed that he is going to prepare an even sharper letter in which Ivanishvili will address not only a particular group of EPP, but all members of the party. The PM said he is not afraid to be engaged in debates with Europe, as he said Saakashvili hoped for. "We are not afraid to tell the truth to Europe... now the time has come and we will tell the truth to those Europeans who still live on Saakashvili's lies," Ivanishvili said.
According to the PM, his letter to EPP will be published in few days.