Davit Usupashvili continues his official visit to the United States.
By Ana Robakidze
Friday, March 15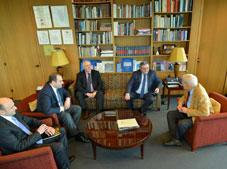 Chairman of Parliament Davit Usupashvili continues his visit to the United States. He held his first meeting with members of the U.S Congress.
"We had meetings with congressmen and senators, with people who know Georgia well and with people who have just started to learn about our country. Our main message is that the new government plans on improving relations with the United States. We discussed possible business projects, because we want the friendship of Georgia and the United States to positively impact the everyday life of Georgian citizens. Thus investments and business, which will increase employment, is one of our priorities with the United States." David Usupashvili stated after the meeting with Congressmen George Holding and David Nunes and Senator James Risch.
The Georgian delegation also held meetings with local research organizations in Washington, D.C.
Representatives of Freedom House will visit Georgia in order to monitor the current situation in regarding the media and human rights. The President of Freedom House David Kramer proposed the initiative during the meeting with the Georgian delegation. The delegation also held meeting with Jim Marshall, President of the U.S.A. Peace Institute and Lorner Craner, President of International Republican Institute (IRI).
Opportunities for the Peace Institute to implement programs regarding law-making were discussed during the meeting with the Georgian delegation.
Georgian-U.S. relations, democracy and the development of political parties in Georgia were discussed at the meeting with IRI representatives. According to Usupashvili, IRI sees Georgian Dream as a very reliable partner.
"I asked our friends to continue their assistance for the development of political parties in Georgia, first of all for oppositional political parties. The country needs not only a powerful governing coalition but a powerful opposition as well. We agreed that the IRI will continue its programs in this regard." Usupashvili stated.
"We've had a great cooperation [with Georgian Dream] and we continue having great cooperation with the speaker and his people…relations are continuing very, very well." Lorne Craner said after the meeting.
Usupashvili met with Daniel Johannes, CEO of the Millennium Challenge Corporation. After the meeting it was revealed that the organization is going to launch new projects in Georgia and spend around $150 million on improving the Georgian educational system.
Usupashvili also had meetings at the Pentagon, where security issues and future military cooperation between Georgia and the United States were discussed.