Tbilisi hosts 12th International Oil, Gas, Energy and Infrastructure Conference
By Ana Robakidze
Wednesday, March 27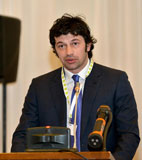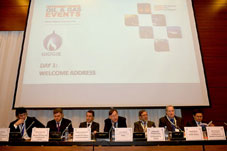 Hotel Radisson Blue Iveria is hosting the 12th international conference
Oil, Gas, Energy and Infrastructure 2013
.
Sustainable development and energy security issues, as well as the prospects for the development of energy infrastructure will be discussed at the conference, as well as the planned and ongoing investment projects in the energy sector.
The conference will be attended by the Minister of Energy of Ukraine, Eduard Stavitsky, head of the EU mission in Georgia, Philip Dimitrov, representatives of the embassies of the UK and Kazakhstan, oil and gas companies and other sector experts. Current and future energy projects will be discussed at the conference, including AGRI, Shah Deniz and Baku-Tbilisi-Jeikhan.
Georgian Energy Minister and vice-prime Minister of Georgia, Kakha Kaladze, made an opening speech at the conference.
According to Kaladze, it is planned to expand the Shah Deniz project, which is a very important for Georgia, as 5% of the gas that is transported though the Shah Deniz pipeline belongs to Georgia. The minister says expanding the project will positively reflect on gas tariffs in future.
The Minister of Energy of Ukraine highlighted the importance of the conference and said that considering the current geo-political situation, the Ukrainian side is highly interested in cooperating with Georgia, as the country can help to make Asian energy resources more accessible.
Georgian and Ukrainian Energy ministers also held a meeting, where they discussed the future energy perspectives of the two countries and plans on cooperation.
The Conference will deal with monetary aspect of this segment due to the recent economic downturn. Also, participants will discuss the need for the regionís energy security, gas power supplies, necessity of water based power plants, gas related power studies and how foreign infrastructure and investment can be procured. On more open and global issues, various energy related topics will not only be debated, but many keynote speakers will impart their studies, research and ground work to a wider audience and a framework could be generated for a more reliable, cheaper and sustainable energy.