Controversy over restored Rabati fortress
By Ana Robakidze
Thursday, April 4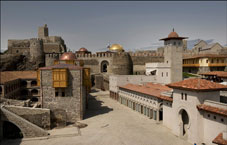 The new government of Georgia offered President Mikheil Saakashvili to reface some parts of the Rabati fortress in Akhaltsitkhe. The complex is of a multicultural architecture, and includes a citadel, castle and other facilities, as well as the 18th century Ahmadiyya Mosque, but is not used for religious services.
The restoration of the complex became controversial and many MPs from the parliamentary minority, the president's administration and the opposition, claim that the government aims at nothing but the destruction of everything built by the previous government.
According to the Minister of Culture and Monument Protection of Georgia, Guram Odisharia, the monument was restored with some methodological violations and by ignoring principles of preservation of cultural heritage and some of its elements. The ministry is starting intensive discussions on Rabati fortress and advises the opposition not to politicize the issue. The Ministry of Culture reports that the Turkish side also requested some parts of the complex to be refaced. Reportedly, it is planned to replace the current gold colored dome of the mosque with a lead color dome and remove from the mosque stone steles with engraved crosses.
Odisharia said that the reliefs with cross symbolic elements may be withdrawn from the territory. Reportedly, it was requested by the Turkish side. The minister confirmed that neither the reliefs nor the original face of the monument will be affected. The Ministry of Culture plans to examine the drainage systems of the facilities in the complex. The reconstruction is planned to be carried out in cooperation with Turkish experts. The two countries are going to cooperate for the protection of cultural heritage and are working on an agreement that will address the issue of restoring Georgian Orthodox Churches – Ishkhani and Oshki, now located in Turkey. Also, the Turkish side is trying to promote the possible construction of a new mosque in Batumi.
According to the President's spokesperson Manana Manjgaladze, the administration doubts that the Turkish side could have requested to have removed the symbols of Christianity from the mosque. Saakashvili has a planned visit to Turkey, where he is going to rectify the situation regarding the monument, as he believes that there has been a misunderstanding between the Turkish and Georgian governments.
Secretary General of the United National Movement party Vano Merabishvili held a special press conference at the party office and called on the government to stop trying to destroy Rabati fortress. Merabishvili stated that the government has initiated a criminal case and started an investigation into the Rabati case and all workers, as well as the former governor of the region were questioned, also the objects on the complex site were closed, leaving 165 people jobless.
In case the government will carry on "destroying" what was built by the previous government, Merabishvili is going to create a movement and save the monument. "I will create a movement for saving Rabati Castle," he declared at the press conference.