Parliament to adopt new amendments to the Election Code
By Ana Robakidze
Friday, April 5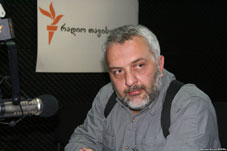 The Parliament of Georgia discussed a new proposed amendment that would introduce new rules to City Assemblies' election proceedings. Under the proposed amendment City Assemblies would be elected using proportional and majoritarian electoral systems (similar to Parliament) and by-elections will be held if City Assembliesí majoritarian members leave office early.
In addition, under the new proposed legislation, by-elections would be conducted in the nearest February, June or October. According to current legislation by-elections are fixed for September and October.
Under the proposed amendment by-elections would be held if there are at least three vacant seats in a sakrebulo (local legislative body). Under current legislation by-elections are only held if there are five vacant seats and more than two years remain before the next sakrebulo election.
The last sakrebulo elections were held in May 2010, with legislative bodies convening in June 2010.
The proposed amendment passed the first round of votes 82 to 19. Zurab Kharatishvili, Chairman of the Central Election Commission (CEC), released a special statement and called on Parliament to conduct proper consultations with the CEC before approving the bill. Kharatishvili explained that amendments may conflict with procedural deadlines and the composition of district election commissions, as well as violate the current election code.
If Parliament adopts the new amendments by-elections will take place in June in the following municipalities: Oni, Mestia, Tbilisi, Khobi and Tsalka.
The bill has caused acrimony between the Georgian Dream majority and the oppositional United National Movement (UNM). The opposition does not support the amendments. According to the UNM, the bill is an attempt by Georgian Dream to gain control of sakrebulos, especially in Tbilisi. According to United National Movement MP Pavle Kublashvili, there were procedural violations during the first vote for the bill.
United National Movement MP Mikheil Machavariani said at the session that Georgian Dream is trying to hold by-elections in February or June, because of the high approval rating the party currently enjoys. Georgian Dream is trying to gain as many seats in sakrebulos as possible, Machavariani claims.
Tbilisi Sakrebulo member Zaza Gabunia defended the amendments by stating that they were proposed by the request of the Georgian people. He added that the amendments aim to protect citizensí rights. Gabunia says it is wrong that several districts in Tbilisi do not have representatives in the city sakrebulo. Gabunia claims that the amendments have nothing to do with gaining control over cities' municipal governments.