German expert to assist Gldani prison scandal investigation
By Ana Robakidze
Wednesday, April 17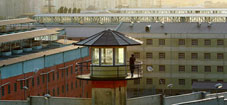 An expert from Germany will arrive in Tbilisi to study the current situation in Georgia's prisons and as well as the video footage aired back in September, showing prison Gldani prison staff physically abusing prisoners.
In order to help the German expert in the prison scandal investigation, Georgian law enforcement will provide him with all the evidence and other information they have available.
The chief prosecutor's office says that there are no professionals available in Georgia, experienced in systemic crimes. Therefore, it became a necessity to invite the expert from abroad. According to Khatuna Paichadze, Chief Spokesperson for the German expert, whose identity has not been revealed yet, is highly qualified in investigating systemic crimes.
Minister of Corrections and Legal Assistance, Sozar Subari, supports the idea of inviting foreign experts and involving them in the investigation process. "There is no doubt we are facing a systemic crime committed against every inmate and their family members," Subari said in his interview. He doubts that the crimes the prison staff has committed against inmates may be qualified as a crime against humanity. However, the minister refrains from drawing early conclusions and hopes the invited expert will help Georgian investigators with the correct qualification.
"It is important to assure international society that all the processes ongoing in Georgia serve to restore justice, not to serve personal interests. Therefore it is very important to have international experts involved in the process," Subari said.
Human Rights defender, Lia Mukhashavria, welcomes the government's decision and says foreign experts with the subsequent qualifications can help with the investigation process. However, she believes it would have been better if Georgian investigators had finished the investigation themselves, before having foreign experts involved in the process.
Mukhashavria wants to know what steps will be taken by Georgian investigators, in the case the German expert does not qualify the Gldani prison events as crimes against humanity.
The German expert is expected to arrive in Georgia by the end of April. He will study the series of video recordings showing the graphic images of the prison guard beating and raping prisoners in Gldani prison No. 8. The material was obtained by a formed guard in Gldani prison, Vladimer Bedukadze. As a result, the prosecutor's office launched an investigation and detained several members of the prison staff, as well as high-ranking officials at the prison system.