Georgian and Turkish experts meet to discuss Ishkhani complex rehabilitation
By Ana Robakidze
Thursday, April 18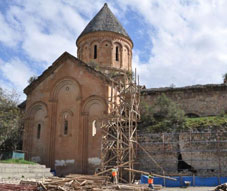 The first official working meeting between Georgian and Turkish experts took place in the Ishkani complex on April 17. The meeting aimed to set a common plan to restore the Ishkhani complex. The Georgian monastery complex, which is now located on Turkish territory, is currently in a very dangerous condition and immediately requires attention.
Georgian experts say their participation in the process is vital as Turkish side does not have any experience in working on Christian monuments, and without Georgian supervision, the unique style of the monument may be lost. Experts will study the monument and the area around it in order to elaborate special recommendations. The Ministry of Culture and Monument Protection requested that the Turkish side take their recommendations into consideration through all the processes of reconstruction.
The Georgian party is determined to sign an official document giving an authorization to Georgian experts to monitor the work on Ishkhani and other Georgian monuments located in Turkey. The ministry hopes the first meeting in Turkey will bring benefits and enlarge the format of the cooperation between the two countries.
The Turkish side started reconstruction of the monument early in April. The work was going on without any supervision of the experts and many frescoes were damaged. The Georgian side requested the work on Ishkhani complex to be suspended.
Ishkani is not the only monument Ministry of Culture is concerned about. Another monastery complex of Oshki is also in need of urgent care. According to the deputy minister of culture, Marina Mizandari, the Oshki restoration project will be discussed in May of 2013.
In the historic Tao-Klarjeti region, which now belongs to Turkey, many Georgian monuments are in need of reconstruction and the deputy minister hopes that the parties will sign an agreement on cultural monuments in the near future. An agreement will give Georgian experts an official format to work on Georgian cultural heritage located in Turkey.
Director of the National Centre of Manuscripts, Buba Kudava, says the deputy head of the department of monument protection in Erzrumi (Turkey) listed to him several Georgian monuments, which will be rehabilitated in the future.
"He mentioned several monuments, including Artanuji complex. There are ruins of a palace, church and other parts of the complex in Artanuji, also the fragments of the main wall. I am not sure exactly whether the reconstruction project will cover the whole complex or just part of it," Kudava said.