Turkish National Sovereignty and Children's Day celebrated in Tbilisi
Wednesday, April 24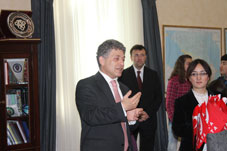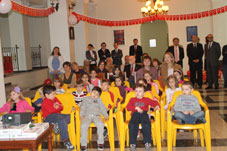 The Embassy of the Republic of Turkey in Tbilisi marked National Sovereignty and Children's Day together with students of QSI International School of Tbilisi on April 23.
The Children had an opportunity to sit in the chair of Turkish Ambassador and make a statement, receive memorable gifts, taste delicious Turkish cookies and sweets, take photos, play in the beautiful garden of the Embassy and meet the diplomats of the embassy who provided them information about the meaning of this important date.
Ceremonies and children's festivals take place throughout Turkey on National Sovereignty and Children's Day. Children take seats in the Turkish Parliament and symbolically govern the country for one day.
The first gathering of the Turkish Grand National Assembly (the Turkish Parliament) took place on April 23, 1920, during Turkey's War of Independence (1919-1923). Mustafa Kemal Ataturk, the founder of the Turkish Republic, proclaimed that the parliament took an important step toward building a new state after the Ottoman Empire was defeated during World War I. Ataturk reportedly dedicated the Turkish Republic to children in Turkey, to emphasize that they are the future of the new nation.
Turkey officially celebrated Grand National Assembly Day on April 23 and held a children's week starting on that day, from 1923–1934.
The importance of April 23 as a special day of children has been recognized by the international community. UNICEF decided to recognize this important day as International Children's Day.