President Saakashvili vetoes two bills
By Ana Robakidze
Thursday, April 25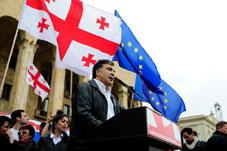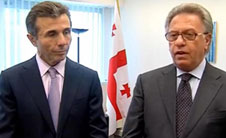 President Mikheil Saakashvili vetoed two bills recently adopted by the Parliament: the bill on reforming the High Council of Justice (HCoJ) and the Jury Trial related bill.
The amendment related to the Judicial Council establishes new regulations on selecting the members of the High Council of Justice. Saakashvili accuses the Parliament in totally ignoring the Venice Commission recommendation. One of the most important recommendations states that the council should be absolutely free from political influence. Prematurely terminating the authority of sitting members of the High Council of Justice is also unacceptable for the president. Saakashvili thinks the bill cannot assure this and he has some recommendations for the bill which has now been sent back to the parliament.
The reforms in the judicial system are highly welcomed by the Venice Commission. This was once again reaffirmed by the president of the commission Gianni Buquicchio during his meeting with Prime Minister Bidzina Ivanishvili in Strasburg and as it appears the president had no remarks regarding the bill. Buquicchio said the judicial reform was a very good initiative of the Georgian government and aims at increasing the court's independence.
"I am a long time friend of Georgia. My dream is to see a democratic, economically and socially developed Georgia. The judicial reform was a very good initiative aiming at increasing the court's independence. "The Venice Commission welcomed this initiative in order to improve independence of the judiciary and the efficiency of the judiciary. So it seems that everything is going in a good direction," Buquicchio said after the meeting.
MPs from the Georgian Dream Coalition were expecting the President to use his veto power, as the United National Movement (UNM) was strongly opposing the bill from the very beginning, particularly the provision which authority of 13 out of 15 sitting members of the HCoJ, will be terminated, as their membership does not comply with the criteria the new bill establishes.
The jury trial related bill, which is an amendment to the Criminal Procedure Code, deprives a defendant the upper hand in choosing whether to have a trial by jury or a judge. Andro Barnovi, the new head of the president's administration, says Saakashvili found the bill to be restricting the defendants' right, hence he vetoed it.
Davit Usupashvili, Chairman of the Parliament is confident that the veto on the HCoJ bill will be overturned. "I am confident the Parliament will successfully override this veto, as bills adopted by us are useful for the country and useful for the judiciary system. This is acknowledged by everyone, including the Venice Commission." Usupashvili commented.
According to the procedures parliament will either accept the remarks Saakashvili has, or alternatively try to override his veto, for what 89 votes are required. The ruling party of GD holds 83 seats. Therefore they will need a support from members of the UNM.