American Friendship Club celebrates Earth Day
Thursday, April 25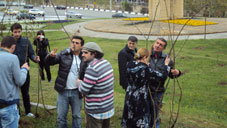 International Earth Day is a large-scale event aimed at environment protection throughout the world. Nearly 17, 000 organizations and millions of volunteers from 190 countries participate in Earth Day activities.
This is why the American Friendship Club and American Educational Centre Langate together with their partner companies celebrated International Earth Day on April 22nd.
President of the American Friendship Club, Ilia Zukakishvili, said the problems of climate change have no boundaries. "It is our duty to look after the earth and take care of improving the climate," he said, stressing that every person should take equal responsibility over the planet.
Zukakishvili said they have managed to plant 50 maples on the right embankment of the Mtkvari River so that after these young plants will grow, everyone will enjoy the healthy environment.