Ivanishvili answers questions, slams former government
By Ana Robakidze
Monday, April 29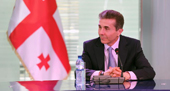 Prime Minister Bidzina Ivanishvili spoke about his team, ways of restoring Georgia's territorial integrity and promoting economic development in his interview with Rustavi 2 TV.
Speaking about settling the relations with Russia, the PM said that the rhetoric needs to be changed and concrete steps need to be taken. The government is making efforts to return Georgian products to the Russian market. "The whole world is trying gain access to the Russian market and Saakashvili managed to close it for us," Ivanishvili said.
According to the PM, it is an illusion that Georgia's territorial integrity can be restored in a very short period of time, "I am not saying that this will take decades but we will need years." Ivansihvili said, adding that Russia cannot be the only power to decide the destiny of Abkhazian and the S. Ossetian people. "Our brothers" have to decide themselves whether they want to live together with Georgians. Therefore, it is essential to make the country attractive first of all for Georgians and after for Abkhazian and the Ossetian people.
Ivanishvili is sure that the key to territorial integrity is the development of democratic institutions and economy. He wants Georgia to be turned into "a good country for living". The greatest unfairness at the moment is that people do not have jobs and are unable to provide for their families, this needs to be fixed urgently, PM says.
During the interview, the PM made comments about the investigation of the Lopota gorge clash and about the allegations that Georgian territory had been used as a training base for the North Caucasus militants.
"I have stated previously that Georgian territory was used as a transit route for North Caucasus militants," Ivanishvili said, adding that his government took the necessary efforts to close those routes to ensure security, which is in the interests of the whole world, including Russia.
The answer to the journalist question whether the PM believed that terrorists may have undergone military training in Georgia, Ivanishvili replied: "I think it is possible." However, the PM advises society to wait for the investigation to be concluded. "There are suspicions that the (previous) government may have cooperated with militants and terrorists and in case these allegations are confirmed it will be a shocking fact for me." Ivanishvili said.
President Mikheil Saakashvili replied the PM from the US. He said his government has never been in cooperation with terrorists and accused Ivanishvili in following the Russian propaganda aiming to "weaken" Georgia.
Defense Minister Irakli Alasania thinks it is really difficult to make any preliminary conclusions whether terrorists have undergone any training on Georgian territory. However, according to the minister currently no evidence is available to prove the fact, so it is better to wait for the investigation results.