NATO Parliamentary Assembly's 83rd Rose-Roth seminar underway in capital Tbilisi
By Ana Robakidze
Tuesday, April 30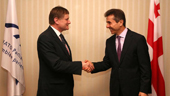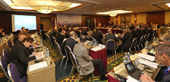 NATO Parliamentary Assembly's 83rd Rose-Roth seminar was opened in Tbilisi on April 29th.
According to the NATO Parliamentary Assembly, the seminar will discuss the geopolitical development in the South Caucasus, the Euro-Atlantic integration of the region, as well as domestic challenges in Georgia, Armenia and Azerbaijan.
The seminar was opened by NATO Parliamentary Assembly President Hugh Bell, Parliament Chairman Davit Usupashvili and Swiss Ambassador to Georgia Guenther Baechler.
Prime Minister Bidzina Ivanishvili delivered a speech at the seminar and spoke about Georgia's aspiration to join NATO and relations with Russia. Ivanishvili reiterated that NATO is the choice the Georgian people made around ten years ago and the government will take all the necessary efforts to reach that goal and become a member of the Euro-Atlantic family. The PM is grateful for the support Georgia has been receiving from the member states.
"NATO member countries have expressed their absolute readiness for Georgia to join NATO. There are some obstacles, including the occupied part of our territories, but I think Georgia will join NATO in the near future due to our activity and strategy," said Ivanishvili.
The PM hopes to be supported by Georgia's partners in its effort to settle relations with Russia and restoring the security in the region. "The year 2008 was the hardest in the latest history of our country. 20% of the territory became occupied by Russia. In 2008 a severe crime – ethnic cleansing was repeatedly committed against Georgian people. This is exactly what was done during the conflict in Abkhazia," Ivanishvili said in his speech, adding that the crime was confirmed in many international documents.
Hugh Bell said Georgia is welcome to enter the "opened door" of NATO. "We remain absolutely confident that Georgia will join NATO," he said at the joint press conference with Parliament chairman Davit Usufashvili. Bell replied to a question Usufashvili asked at the seminar. "We want to know if we may enter the door that has been opened for Georgia," Usufashvili asked at the briefing.
Giorgi Baramidze one of the opposition leaders of the United National Movement (UNM) who usually accuses the PM and his cabinet in hampering Georgia's Euro-Atlantic integration, said that the statements Ivanishvili made in his speech at the Rose-Roth seminar, correspond to the statements PM should be making. However, Baramidze still regrets that the Georgian government does not make any efforts to promote the integration process. He is also unhappy with the policy the new government is carrying out in terms of settling relations with Russia.
The Rose-Roth will last through May 1. The event is being attended by 220 participants, including some 70 legislators from NATO and partner countries, as well as top government and parliament officials from the countries of the region; ambassadors, representatives of international organizations and participants from think tanks and civil society.