Peaceful demonstration ends with arrests
By Ana Robakidze
Friday, May 3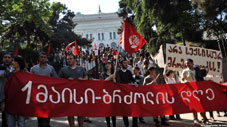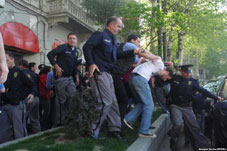 A peaceful demonstration by the student group Laboratory 1918 ended with a scuffle between students and police officers after demonstrators decided to march into the middle of Rustaveli Avenue. As protesters spilled into the street, they refused to return to the pavement. As a result of violating public order more than twenty people were arrested. All the detained demonstrators were released the same day, but administrative court proceedings will be carried out against them.
Laboratory 1918 organized a demonstration under the slogan "Protect your labor rights" on May 1st. Students gathered in front of Tbilisi State University and marched down the streets in the city center. Protesters were requesting improved working conditions, and an amended labor code which would protect employee's rights and provide compensation for unemployed citizens.
Participant Guram Chkhikvishvili said police definitely warned them to move to the pavement, but students refused to do so, saying that there were too many of them. Demonstrators claim they were peaceful and not violating public order but police still used force against them and physically attacked several participants.
Several journalists were also among those arrested. The Georgian Charter of Journalistic Ethics calls on law enforcement to act within the framework of the law and publicly explain why journalists are detained.
Human rights protectors and NGO's have negatively assessed the incident and have accused police of using a disproportionate amount of force. Transparency International Georgia calls on the Ministry of Internal Affairs to examine the case and reveal if demonstrators actually violated a public order and whether police took adequate measures or overreacted.
TI Georgia agrees that demonstrators are obliged to obey the law and maintain public order but also reminded the police that they must ensure that citizens are able to enjoy the right of speech and expression.
Human Rights Education and Monitoring Center (EMC) has released an official statement and accused the police of harassment. The statement says that after examining video footage of the demonstration it became clear that police used excessive force. EMC says participants of the demonstration faced aggression and violence from police officers. The organization also accuses police of hampering media coverage of the event so the incident could not be aired on television. EMC calls on the Ministry of Internal Affairs to investigate the case and to take appropriate action against certain police officers.
The incident is also being investigated by the Public Defenderís Office. Based on available video footage, the Public Defenderís Office says there were moments during the demonstration when police hampered journalists from filming the incident. With regards to the use of force, the statement says that more details should be examined and only after will it be possible to identify whether the police used excessive force or not. Public defender Ucha Nanuashvili will make a public statement and provide a full legal assessment of the incident within the next few days.