Amended labor code may increase unemployment in the country
By Ana Robakidze
Tuesday, May 7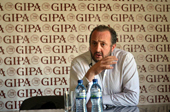 The labor code amendments that passed with the first reading of the Georgian parliament were criticized by the Minister of Education, Giorgi Margvelashvili, who also holds the post of the Deputy Prime Minister.
Margevlashvili said if the amendments are finally adopted the labor code will be imbalanced, leaving no chance for the development of business. "It is a nightmare for business," the minister said during his meeting with students at the Georgian Institute of Public Affairs (GIPA) on May 3.
Margvelashvili fears that the amended labor code does not guarantee balanced employee-employer relations, which is a hampering factor for business development. The amendments were written under the dictation of the trade unions, and protection of the employer's interests are reduced to a minimum, the minister said at the meeting, adding that if a balance between the demands of the trade unions and the demands of business and employers are not achieved, "shadow employment" could be encouraged.
Margvelashvili is not the only one who has criticized the amendments. Back in April 2013, business groups addressed the authorities, warning them that the new code may bring imbalanced employee-employer relations and some new provisions will also cause enormous administrative and legal paperwork, especially for small and medium enterprises. The business groups were referring particularly to the part of the code which obliges employer to enter into a written contract for any labor relationship lasting more than three months. Also the business groups request that one-year employment contracts be allowed. The new draft allows fixed-term contracts only in a number of occasions. Business unions fear that switching to a system of unlimited term employment will lead to increased unemployment in the country.
"The draft was written according the recommendation of international organizations not the trade unions," Chairman of the Trade Unions, Irakli Petriashvili, replied to Margvelashvili's accusations, adding that it is always better to listen to people, rather than to trade unions or international organizations, as the code should correspond to the requirements of the society.
Margvelashvili was responded to by the Deputy Minister of Justice, Alexander Baramidze, "This is a labor code which fully corresponds to the promises Georgian Dream gave to voters during the election campaign... This is a labor code, that fully guarantees a balance in rights and obligations of employers and employees," Baramidze said. The deputy minister, who was one of those actively involved in drafting the amendments, said the new labor code is in full compliance with Georgia's international commitments.
Kari Tipola, a representative of the International Labor Organization (ILO), held meetings at the Parliament of Georgia and discussed the draft amendments to the code. "We have been holding consultations on the new labor code for several months now, and I believe that the new code is in compliance with international standards," Tipola said after the meetings.
Members of the Georgian parliament say the draft will undergo some amendments before the final version is approved and adopted by the legislation body.