Georgia-Russia energy relations to be restored
By Ana Robakidze
Wednesday, May 8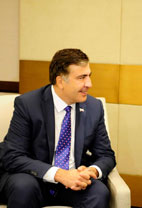 Georgian Energy Minister Kakhi Kaladze says the country needs to ensure the multi-directional character of its gas supplies. Therefore, it is possible that negotiations will start with Russia on resuming gas procurement to Georgia.
Georgia is receiving its current gas supply from Azerbaijan and it is cheaper than Russian gas. If the country starts to deliver gas from Russia, this may lead to increased prices for Georgian citizens.
President Mikheil Saakashvili strictly opposes any kind of energy relations with Russia. "We achieved what none of the other Eastern European countries could do, we stopped being energy dependent on Russia," Saakashvili said. Restoring energy relations with Russia will be accepted as a total review of the state policy, which is unacceptable for the President. Saakashvili agrees that it is essential to source alternative gas suppliers, but these should be the countries Georgia has been negotiating with for a long time now, such as Turkmenistan and Kazakhstan.
According to Minister Kaladze, Georgia should consider receiving not only gas, but also electric power from Russia. The minister says Russia has a big advantage, as it offers the lowest price in the region.
General Director of the Georgian International Energy Corporation, Natia Turnava, says it will not be economically profitable to start gas delivery from Russia, as it is about $100 more expensive than Azerbaijan. However, the oil market is unpredictable and in the case that Russia regulates its prices on its oil and gas, it could be possible for Georgia to restore energy negotiations with the northern neighbor.
Experts agree that it is always better to have several different energy suppliers, as it excludes monopolization of the market. However, President Saakashvili does not see Russia as an alternative. He disposed of the dependence on Russian gas after the frequent attacks on the gas pipeline leading to interruptions in the population's gas supply,
The president says the government is trying to send the country back into its "dark past". "Russia has an interest to gain a control over its neighbors using its energy as a lever," the president said, adding that he is expecting a precise explanation of the matter from the Prime Minister Bidzina Ivanishvili.