OSCE delegation pays a visit to Georgia
By Ana Robakidze
Thursday, May 9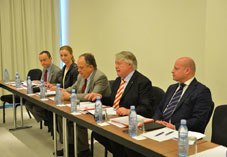 OSCE parliamentary assembly President, Wolfgang Grossruck; OSCE special representative to the South Caucasus, Zhoao Suaresh and Tina Schon, Deputy Secretary General, are visiting Georgia.
The situation in the conflict regions, security issues, cohabitation and legislation amendments recently discussed by the Georgian Parliament were the major issues discussed by the OSCE delegation and the representatives of the parliamentary majority. The meeting, which was closed for the media, was held at the Hotel Radisson Blue Iveria, on May 7th.
Georgian MPs also had to answer questions regarding the economic situation in the country, amendments made to the labor code and employment issues.
According to the parliament web-page, OSCE representatives positively assessed the latest political processes in Georgia and also mentioned that despite some difficulties, the democratic change of the government can still be considered as an unprecedented fact within the post-Soviet states.
Bidzina Gujabidze, MP from the governing Georgian Dream coalition, said after the meeting that the OSCE Parliamentary Assembly delegation had been misinformed about the situation of judges and they had questions about the court system in Georgia. "They had false information that judges are being persecuted," he said. MPs advised the delegation members that Georgian judicial system is under the ongoing reform and judges are completely free from any kind of pressure or influence.
OSCE delegation also held a meeting with the parliamentary minority. MPs from the United National Movement (UNM) and OSCE delegation discussed the attitudes of the government to the opposition, the political and economic situation in the country, as well as human rights protection.
Grossruck and Suaresh also met meeting with Georgian nongovernmental sector, on May 8. Representatives of Transparency International Georgia, the Georgian Young Lawyers' Association, Fair Elections and Georgia's Reforms Associate, provided the guests with information on the current political processes in the country. The parties also discussed foreign and internal affairs, election and judicial reforms in the country, as well as human rights issues.
The delegation arrived in Tbilisi, from Azerbaijan where Suaresh met with President Ilham Aliyev. Before wrapping up their visit and departing for Armenia on May 9, the guests will meet with the President, Prime Minister, Speaker of Parliament, Minister of Foreign Affairs and Minister of Reintegration.