3 Georgian soldiers killed, several wounded in Afghanistan
By Ana Robakidze
Wednesday, May 15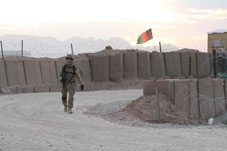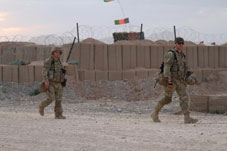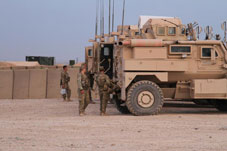 Three Georgian soldiers were killed as a result of a large-scale terrorist attacks carried out on the military base where the Georgian contingent is deployed in Afghanistan. On May 13, a suicide bomber and a group of insurgents attacked the military base of the 42nd killing Junior Sergeant Zviad Davitadze, Corporal Alexandre Kvitsinadze and Corporal Vladimer Shanava. Also, several Georgian soldiers were wounded as a result of the attack.
Georgia joined
International Security Assistance Force
(ISAF) mission in Afghanistan in November 2009. Originally, only 170 soldiers were deployed in Kabul. In 2010 a battalion was sent to Helmand province and in 2012, Georgia decided to double its already substantial contribution to ISAF, increasing the number of servicemen to over 1,560 and making the country the largest non-NATO troop contributor. This decision was opposed by many, as the deaths of Georgian soldiers had been recorded before. Considering the latest attack on the military base, in total, 22 Georgian soldiers have been killed in the ISAF mission. In September 2010, after another attack on Georgian forces, four servicemen were left dead.
According to the Georgian Ministry of Defense, special security measures have already been taken. "The Georgian soldiers repelled the attack and liquidated all the insurgents. At the moment they are fully controlling the operational conditions in their area of responsibility." The situation on the military base has been stabilized. The ministry reports that "the Georgian soldiers who were wounded as a result of the attack were transferred to the main hospital at the military base "Bastion". Their health condition is stable and their life is not endangered."
Minister of Defense, Irakli Alasania, held a special briefing on Monday and expressed his condolences to the families of the dead soldiers. "It is a sad fact that we suffered casualties and three Georgian soldiers were killed... I would like to extend my condolences to the families of our heroes. This is a tragedy for all Georgia. We, like each Georgian citizen, share the sorrow of the family members of the dead." He also revealed some details of the attack and said that a suicide bomber rammed an explosives-laden truck into the military base in Helmand province. The explosion was accompanied by an attack by a group of insurgents.
President Mikheil Saakashvili and Prime Minister Bidzina Ivanishvili also expressed their condolences to the families of the dead soldiers. In a statement released via his official Facebook page, Saakashvili underlined the heroism and devotion of the Georgian military servicemen.
NATO plans to continue the ISAF Mission in Afghanistan until 2014. According to the NATO supreme allied commander in Europe, General Philip Breedlove, the alliance will start to withdraw coalition troops from Afghanistan at the end of 2014. Georgia is going to continue its participation in the Afghanistan mission after its troops are withdrawn. According to the government, Georgia will not participate in any military operations, but will help Afghan security structures and the army in training instead.