Natural disaster causes severe damage to Kakheti
By Ana Robakidze
Thursday, May 16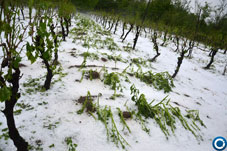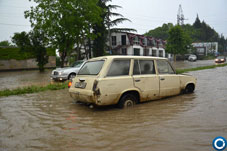 Villages in Gurjaani, in the Kakheti region, have been severely affected by the heavy rain and hail. As a result, several vineyards and agricultural lands have been destroyed in the region. Serious damage was brought to the villages of Vejini, Kolagi, Bakurtsikhe and Kardenakhi. In tens of houses, wine cellars and ground floors have been flooded. Roads in the villages are also damaged. Therefore, transport movement on the Tbilisi-Bakutsikhe-Telavi main highway had to be closed. Around 10, 000 families are left without electricity.
The damage is so high that the local municipality is requesting help from the central government. Kakheti region governor Zurab Tchiaberashvili, deputy governor Giorgi Botkoveli and head of the Gurjaani municipality, Joni Osiashvili, have already visited the damaged villages. An operation to pump water out of the flooded areas and work to restore electricity supply in the region is underway.
Locals say they have lost everything and there will be no harvest this year. Victims of the natural disaster request from the government to evaluate the damage and issue compensation.
People gathered in the center of Kolagi village and held a protest rally, requesting a special commission to be set up to evaluate the damage immediately, so the central government could provide them with compensation. People for whom the only source of income is agriculture said they have lost everything and complained that no one from the central government had met with them to discuss the problem.
Zviad Kviralashvili, the deputy head of the Gurjaani municipality, met with protesters and asked them to be patient. Kviralashvili asked locals in Kolagi to understand that first the commission has to finish the work and provide the central government with a detailed assessment of the damage, so the amount of compensation could be calculated.
Gurjaani region majoritarian MP Giorgi Gviniashvili voiced the problem at a Parliament session on May 15th, asking his colleagues to temporarily put aside political issues and to focus on helping the victims. "It is essential to create a special commission to study the problem. We have to support people." Gviniashvili said, adding that he would immediately leave for Gurjaani to obtain the detailed information on the condition in the region.
Exact information on the damage will become available within few days. However, it is already estimated that the natural disaster has caused damage of several million GEL.