Charges filed against UNM members
By Ana Robakidze
Thursday, May 23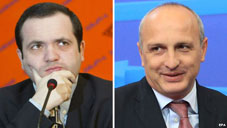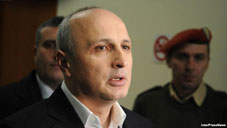 General Prosecutor's Office of Georgia officially brought charges against former Prime Minister and General Secretary of United National Movement Party (UNM), Vano Merabishvili and the Governor of Kakheti, former Minister of Health, Zurab Tchiaberashvili.
The charges were filed for the bribery of voters, embezzlement or misappropriation of funds through the use of official power and the abuse of power.
According to Georgian criminal procedure, the court hearing on measures of restraint against Merabishvili and Tchiaberashvili must be held within 48 hours after the charges have been officially filed.
Tchiaberashvili who served as a Georgian representative to Strasbourg several years ago, is supported by some representatives of the Georgian diplomatic corps. The statement signed by several former and current diplomats says diplomats are ready to become guarantors of Tchiaberashvili and ask the court to set him free on bail.
"We express our concern over the detention of our former colleague Zurab Tchiaberashvili. We hope that a fair and impartial investigation and trial will establish the truth as soon as possible.
Believing that Tchiaberashvili will cooperate with the investigation, we vouch for our former colleague, as well as address a request to the relevant authorities not to apply any restrictive measures of freedom against Tchiaberashvili. Taking this opportunity, we express our support to the family of Tchiaberashvili," diplomats say.
Neither of the accused deems himself guilty. According to Merabsihvili's attorneys, the former Minister finds the charges against him to be ridiculous.
Members of the UNM accuse the government and prosecutor's office in bringing groundless charges against Merabishvili and Tchiaberashvili. UNM member and the Secretary of the National Security Council of Georgia, Giga Bokeria, believe that the detention of his party members is politically motivated.
UNM leaders and other supporters held a rally in support of Merabishvili and Tchiaberashvili. The rally took place in front of the pre-trial detention center in Kutaisi on May 22.
The European Union will keep an eye on the investigation and the court hearings. Stefan Fule European Commissioner for Enlargement and European Neighbourhood Policy and Catherine Ashton high representative of the Union for foreign affairs and security policy released a special statement and expressed their hope that the investigation and the court hearings on the Merabishvili and Tchiaberashvili cases will be fair, transparent and in accordance with international standards and free form any political influence.
This statement was replied to by the Georgian Prime Minister Bidzina Ivanishvili, who excludes any political pressure on the prosecutor's office and says that the responsible state institutions will do everything that is necessary to ensure international standards while investigating criminal cases. "We exclude any kind of political influence on the current legal procedures," the PM said.