NATO Special Representative opens NATO Week in Tbilisi
By Ana Robakidze
Tuesday, June 4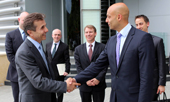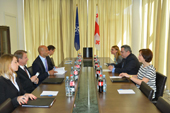 Deputy Assistant Secretary General for Political Affairs and Security Policy and the NATO Secretary General's Special Representative for the Caucasus and Central Asia, James Appathurai, expressed his concern over the illegal installation of fences in the conflict region.
Appathurai arrived in Tbilisi to open NATO week together with the Georgian Minister for Euro-Atlantic integration. Aleksi Petriashvili is going to discuss the illegal actions from the Russian side and the conflicts in general.
"NATO has the same position as the EU Monitoring Mission and the United States. We are concerned by the construction of the illegal separation fences, which is a violation of the existing agreement and hampers movement of the population. We, of course, are negatively evaluating this fact," he said.
According to Appathurai, he had two reasons to arrive in Georgia, the first reason is NATO Week in Tbilisi and the second reason is preparation for a visit from the North Atlantic Council (NAC) to Georgia.
"Georgia is a country which has always had a very high level of support from NATO, no matter which government is in power. So, it is a good opportunity to talk about the alliance," Appathurai said at the airport, upon his arrival. He also mentioned the role of Georgia in the ISAF mission. "One of the most important things that I am going to do is to thank the Georgian people for their contribution in Afghanistan. This is a hard period. Recently three soldiers were killed and many have been injured. I once again want to offer my sympathy on behalf of NATO," Appathurai said.
During his visit Appathurai will hold a number of meetings with Georgian officials. He already met with the Prime Minister Bidzina Ivanishvili and Parliament Speaker Davit Usupashvili.
The PM discussed with Appathurai the process of integration with NATO, as well as the planned visit of NAC. Both parties agreed that the NAC visit to Tbilisi is another opportunity for NATO officials to study the ongoing processes in Georgia and express the alliance's support to the country's further integration.
Foreign policy, cohabitation and the reforms of the new government were discussed at the meeting with Usupashvili. "We had a very good meeting. We discussed a full range of issues. Let me say that it is very welcomed in NATO that the Parliament has managed to manifest cohabitation. Very important decisions were made. The Parliament has made it clear that the main foreign policy remains unchanged," Appathurai said after the meeting.
NATO Week in Tbilisi will last till June 10th and will be attended by several high-ranking NATO officials and representatives from aspirant countries.