European Parliamentary delegation holds meetings in Tbilisi
By Ana Robakidze
Wednesday, June 5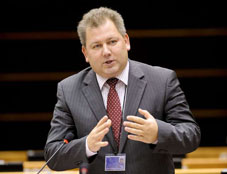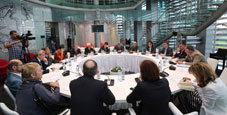 An extraordinary delegation of the European Parliament arrived in Tbilisi on June 3 on a two-day visit.
Polish MEP, Krzysztof Lisek, thanked Justice Minister Thea Tsulukiani for granting him access to former Interior Minister Vano Merabishvili, who is being held in pretrial detention. The meeting was held at the 9th penitentiary facility and lasted about 30 minutes. According to Lisek, he was curious whether the environment Merabishvili is held in corresponds to international standards.
ďI can say that Merabishvili is in good shape. We spoke for about half an hour. He asked me a lot of questions, about what is going on outside. Iím surprised that he has no TV set or contact with his relatives and thatís why he asked about what is going on. Iíll talk to the Minister of Justice about this. He can also go out for half an hour. He is optimistic and hopes he wonít have to be in prison for over a year,Ē Lisek said.
Georgia-EU relations were discussed at the meeting between the MEPs and Prime Minister Bidzina Ivanishvili. The PM once again assured the guests that Georgia is firm about its foreign policy and there is no alternative to the countries aspiration to integrate with Euro-Atlantic alliance.
The parties also discussed joint projects and the planned reforms the Georgian government is going to carry out with the support of the EU.
The delegation also visited the Ministry of Internal Affairs on June 4 and met Minister of Internal Affairs Irakli Gharibashvili. During the meeting, the parties discussed the current political events, as well as the ongoing and already implemented reforms within the Ministry. The sides also reviewed the issue connected with european integration of Georgia.
During the meeting with the Public Defender, Ucha Nanuashvili, representatives of the European Parliament were interested in the human rights violations mentioned in the Public defenders report for the year 2012. The MEPs also received information regarding the scandalous Lopota operation, which resulted in several deaths and the investigation is still in progress.
The delegation of the European Parliament will hold a press conference before their departure on June 5.
On the first day of their visit, European MPs met with the oppositional United National Movement (UNM). UNM member Davit Bakradze said the sides discussed the situation in the conflict zone of Georgia, as well as the detention of Merabishvili.