The third meeting between Georgian and Russian diplomats takes place in Prague
By Ana Robakidze
Friday, June 7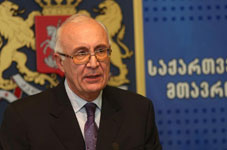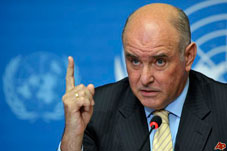 The third meeting between the Georgian Special Representative for Relations with Russia, Zurab Abashidze and Russia's Deputy Foreign Minister, Grigory Karasin took place in Prague on June 5.
The format of the meeting was fixed back in December,2012. It was slightly different form the Geneva Talks and dealt with trade, economy, humanitarian and cultural aspects of bilateral relations. Therefore, the issue of relocating the administrative border between the breakaway region of South Ossetia and the Georgian controlled territory together with the issue of the installation of wire fences by Russian forces was not discussed in substance, but the problems were raised by Abashidze, who expressed concern over the recent developments in the conflict region.
According to Abashidze Karasin, he promised to study the situation in South Ossetia and the problem will be discussed at the next round of international talks in Geneva.
Both parties confirmed that the atmosphere at the meeting was positive, allowing negotiations to move forward.
One of the major topics discussed at the meeting was the Georgian Law on Occupied Territories.
Officially, the Russian Government demands that Georgian Government abolish the law, as it carries criminal charges against those who visit South Ossetia and Abkhazia without crossing the Georgian border. Karasin said possible criminal charges for visiting Abkhazia and South Ossetia is a danger to Russian tourists.
The Georgian Foreign Department is not going to follow Karasin's instructions on the legislation according to the deputy Minister for Foreign Affairs, Tamar Beruchashvili, who was commenting on Karasin's dissatisfaction regarding the law on occupied territories.
Beruchashvili pointed out that law-making is a matter for Georgia.
The Russian Foreign Minister confirmed after the meeting that both states continue to work together on an easing of the visa regime.
The official statement of the Russian Foreign Ministry says, that work continues on the introduction of a more flexible approach for the issuing of Russian visas with letters of invitation for the purpose of supporting ties between families and relatives.
"Still a lot needs to be done regarding access to visas. It must be stated that we already issue humanitarian visas to Georgian citizens which concern visas in the scientific-technical field, for cultural reasons and for sport relations between the two countries", Karasin said after the meeting.
The Georgian Government states that the parties are making modest progress, but still notable, especially in trade relations. According to Karasin, Georgian wine will appear in Russian stores from June. Some Georgian mineral water is already back on the Russian market. Appropriate permission was issued to seven of Georgia's wine producers.
According to the head of the National Wine Agency, Levan Davitashvili, Georgian wine will be exported to Russia next week and the issuing of access stamps has been already started. About a million bottles of Georgian wine will be transported to Russia through the Larsi checkpoint.