Jihadist video threatening Georgia to be investigated
By Ana Robakidze
Tuesday, June 11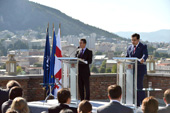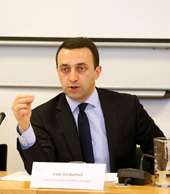 President Mikheil Saakashvili is seriously concerned over a video titled "Taliban Jihad Against Georgian Troops in Afghanistan" released on YouTube hours before the attack on a Georgian military base in Helmand province, Afghanistan. Saakashvili instructed the Ministry of Internal Affairs to start an investigation over the video, which contains threatening messages aimed at Georgian Armed Forces service members serving in the ISAF mission in Afghanistan.
The video depicts Georgian servicemen injured and killed in the mission, while the narrator claims that all Georgians in Afghanistan will share the "same fate" and revenge will take place in Georgia itself. The footage is filled with threats against the "Crusaders" from Caucasus and against President Saakashvili.
Saakashvili is sure the video has been commissioned. In his TV address on June 8, the President expressed his suspicion that the video was produced in Georgia rather than abroad.
According to Interior Minister, Irakli Garibashvili, an investigation is underway to find the individuals who created the video. He also mentioned that foreign partners are actively helping the Georgian side in the process of the investigation, carried out by the anti-terrorism center at the Interior Ministry.
Saakashvili also appealed to NATO Secretary General Anders Fogh Rasmussen. In a letter sent to Rasmussen Saakashvili asks him to investigate the source of the anti-Georgian video online.
Saakashvili wants to find out the possible relation between the appearance of these videos and the attack.
Prosecutor General Archil Kbilashvili does not exclude the possibility that the video was uploaded to YouTube from Georgia. The Chief Prosecutor's Office has appealed to Google, asking to provide the office personal data of a user account from which the video was uploaded on YouTube.
Saakashvili is not happy with the speed of the investigation process. He finds the video to be "extremely alarming". Therefore, he is going to personally monitor the process. "I personally will follow this case up to the end," the president said.
One of the leaders of the opposition party United National Movement, Givi Targamadze, is also concerned over the investigation process and requests a special parliamentary commission to be created which will allocate the source and individuals behind the video.
"I cannot trust the investigation and I ask the Parliament Chairman to set up a parliamentary investigation commission, so MPs can study the issue comprehensively." Targamadze stated at a special press conference he held on June 10th.