Business support program – Seven Steps for Success!
By Messenger Staff
Friday, June 14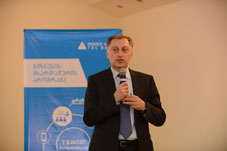 TBC Bank has a new business initiative. On June 12 the bank introduced a unique project aimed at assisting development of small and medium sized business in Georgia through a business support program called Seven Steps for Success.
The program consists of seven different components, all of which consider non-financial and technological services to companies.
General Director of TBC Bank Vakhtang Butskhrikidze, said development of small and medium businesses has great potential and opportunities in Georgia. According to him, of the approximately 500,000 people working in the business sector in Georgia the majority are employed in small and medium businesses.
"Small and medium sized business is one of the important directions for TBC as well. The bank currently serves 43,000 legal entities, which make significant contributions to the development of the country's economy. To strengthen small and medium sized business under the umbrella of this project is among TBC Bank's priorities." Butskhrikidze said.
Components of the business development program are:
1. Free trainings for representatives of small and medium sized businesses.
2. An educational web-platform, which consists of various informational resources.
3. Thematic conferences for sharing experience and encouraging communication.
4. Free consultations – for specialists of different fields.
5. Internet banking for legal entities.
6. Mobile banking.
7. SMS services.
All seven components of the program will be carried out by the end of 2013. TBC Bank will organize free trainings with support of Asian Development Bank (ADB).
Training will be available only for client companies of TBC Bank, in particular: entrepreneurs, directors and managers in three fields: finance, marketing and human resources; this may expand to other employees in the future if the program is successful.