Interior Ministry discovers large arms cache in west Georgia
By Ana Robakidze
Tuesday, June 18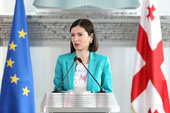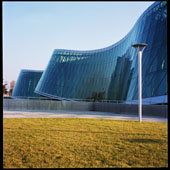 The Ministry of Internal Affairs (MIA) has informed that a large storage of explosive materials has been found.
Nino Giorgobiani, the Spokesperson for the ministry held a special briefing on June 17 and said that an arms cache was found in the Samegrelo region, in western Georgia. According to Giorgibiani, apart from the explosive material, video footage showing law-enforcement officers abusing individuals, drugs and some data information about the members of the previous government's opposition was found as well.
The ministry says in the case that the United National Movement (UNM) had won the election in October of 2012, members of the opposition would have been arrested. The ministry said that some of these files were handwritten making it possible "to promptly identify and arrest" those who compiled these records.
The ministry also published an official statement on their web-page and said that the storage was organized with the direct supervision of former high ranking officials of the MIA.
"The store includes a large amount of explosive materials intended for large-scale military operations and subversive activities, firearms, hand grenades, military ammunition, a large amount of drugs and psychotropic substances, in particular, heroin, cocaine, opium, subutex, etc," Giorgobiani said, adding that in the hidden store the ministry discovered data and photos of the members of the opposition of the previous authorities. They planned to arrest those members of the opposition on falsified charges."
The official statement of the ministry says unearthing this storage made it possible to prevent a grave crime directed against the state and public security.
One of the leaders of the Georgian Dream Coalition, MP Zviad Dzidziguri, believes that the ministry has prevented a grave crime. Dzidziguri said the fact can serve as a lesson for the new government. He believes that the United National Movement planned to use the arms found in the Samegrelo cache against the people, but the October elections changed everything. The MP hopes that the officials related to creating the arms cache will be identified promptly and will carry the responsibility for the crime they have committed.
Gigi Tseretely, an MP from the opposition UNM, disagrees with all statements regarding the planned crime directed against the state and says the Ministry of Internal Affairs is simply trying to find and excuse for arresting more former officials.
Tsereteli also accused the government in trying to drive people's attention away from actual problems in the country. MP says there are no positive processes going on in the country; people cannot see any economic development and the government has not kept the promises it made prior to the elections. Therefore the government is trying to make the people focus on a scandal.
An investigation is currently underway.