IFC Supports Microfinance Lending, to Help Entrepreneurs and Create Jobs in Georgia
Tuesday, June 18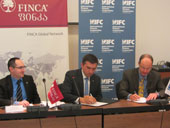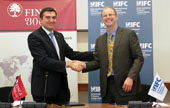 IFC, a member of the World Bank Group, is helping a leading microfinance institution in Georgia to increase lending to micro and small businesses, creating jobs, boosting the economy, and reducing poverty especially in rural areas.
IFC will provide FINCA Georgia with a $4 million loan to help the organization extend funding to entrepreneurs, and micro and small businesses, through its nationwide network of branches. The long-term investment will help FINCA Georgia grow, and expand access to high-quality services and products for entrepreneurs.
"For 15 years, FINCA Georgia has focused on the core clientele of low-income people living predominantly in rural areas of the country," said Vusal Verdiyev, CEO, FINCA Georgia. "This deal will help us continue to support underfunded entrepreneurs, as part of our solid relationship with IFC."
This transaction strengthens the partnership between IFC and FINCA International, one of the largest microfinance networks in the world, and supports the shared aim of creating and scaling up sustainable microfinance institutions. IFC is an anchor investor in FINCA Microfinance Holding Company.
"This investment in Georgia's microfinance sector aims to create new opportunities for micro and small businesses, supporting their growth," said Thomas Lubeck, IFC Regional Manager for the South Caucasus. "The project is also expected to encourage other investors to enter this sector, which would help low-income households to meet their basic needs, improving the quality of their lives."
FINCA International launched its activities in Georgia in 1998 by providing financial services to the lowest-income entrepreneurs. FINCA Georgia currently serves more than 45,000 borrowers in almost all regions of the country.
Georgia became a member of IFC in 1995. Since then, IFC has invested $607 million in 49 projects across various sectors and supported regional projects developed in the country. IFC has also implemented a number of advisory projects focused on the development of the private sector.
About IFC
IFC, a member of the World Bank Group, is the largest global development institution focused exclusively on the private sector. We help developing countries achieve sustainable growth by financing investment, mobilizing capital in international financial markets, and providing advisory services to businesses and governments. In FY12, our investments reached an all-time high of more than $20 billion, leveraging the power of the private sector to create jobs, spark innovation, and tackle the world's most pressing development challenges. For more information, visit www.ifc.org.
About FINCA Georgia, JSC
FINCA Georgia, JSC, is owned by FINCA Microfinance Holdings (FMH), a subsidiary of FINCA International, Inc., which is comprised of socially-responsible investors, including IFC, that bring strong financial backing, excellence in corporate governance, as well as commitment to the social mission of improving living standards in marginalized communities through effective financial services. FINCA Georgia plans to expand its geographical outreach and improve financial services to its target clientele through innovative new products and services to be introduced in the nearest future. For more information about FINCA Georgia, visit: www.finca.ge