Saakashvili plans to veto amendments to the law on higher education
By Ana Robakidze
Wednesday, June 19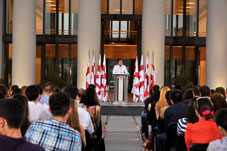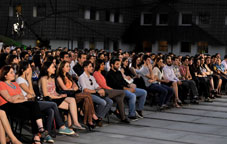 Draft amendments to the law on high education, initiated by the Georgian government and drafted by the Ministry of Education and Science, has caused a negative reaction within society as well from universities and students.
The draft was a major topic discussed by President Mikheil Saakashvili during his meeting with Georgian students. Students from different universities were invited to the President's palace to discuss the amendments to the education law.
Saakashvili expressed his displeasure over the draft saying in that in the case the amendments are adopted it will cause serious errors in the whole education system and hamper the process of turning the country into a center of education and intelligence. The president is going to use his veto power and block the bill if it passes future readings.
The amendments became highly accepted as an attempt by the government to gain control over the universities' academic independence and limit its autonomy. The draft has already passed its first reading, but a significant number of MPs, mostly from the Republican Party, which forms the Georgian Dream Coalition with several other parties, refused to support the draft.
One of the most controversial novelties offered by the draft is giving the Prime Minister the right to appoint the provisional head of a state university. The provision is highly opposed by the parliamentary minority group and universities' academic staff. According the current education law, the Academic Council of university appoints a provisional rector.
In order to ensure society that the independence of state universities is not endangered, the Ministry of Education even elaborated a Declaration on Autonomy and Principles of Academic Freedom of Universities. The declaration speaks about the necessity of establishing university systems that ensure true autonomy of the institution. The ministry lists several principles and ways to reach a "free academic environment" and establish autonomous universities in the country. The declaration was published on the official web-page of the ministry for a public review.
Eliso Chaphidze, Deputy Chairperson of the parliament Committee on Education, Science and Culture, said the proposed changes to the law on higher education will be modified for the second reading and a disputable provision giving the right to the Prime Minister to appoint a provisional head of state universities, will be changed and rectors will be appointed by a collegial body, if the draft becomes a bill.
Chapidze also commented on the president's intention to veto the bill. She said that Saakashvili has tried to veto other bills previously, but he has been unsuccessful so far. Chapidze says if Saakashvili will veto the bill once again, the parliament has enough power to overcome it.