Usupashvili holds meetings in Brussels
By Salome Modebadze
Wednesday, June 19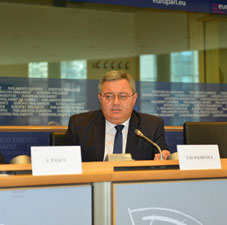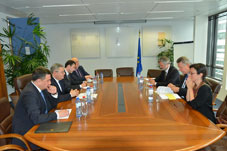 Georgian Parliamentary Chairman, Davit Usupashvili said at the Foreign Affairs Committee of European Parliament on Monday that Europe is Georgia's "only destination" and integration into the European Union and NATO has no alternative. Usupashvili reminded European MPs that the new and former governments prepared a resolution on Georgia's foreign policy together in March, 2013.
The Georgian Parliamentary Chairman said the months after the Parliamentary Election were challenging for the new government as there were suspicions among the public that as the former governing United National Movement (UNM) had pro-western orientation, opposition parties competing with the ruling team must have been pro-Russian and anti-European. But Usupashvili said the Georgian Dream coalition has demonstrated that "foreign policy [and] the agenda for Georgia is not changing."
However, he said Georgia realizes that it has to do its "homework" to prove to everyone that cooperation with Georgia makes sense and the country can be a reliable partner.
Usupashvili thanked the European Parliament members for their support towards Georgia and their willingness in making this cooperation even closer. He said even now when Georgia is living in more or less a peaceful environment [despite the fact that the large part of Georgian territory is still occupied by Russia] the European Union Monitoring Mission (EUMM) in Georgia represents an effective security measure preventing things from getting worse.
Emphasizing the burden of government and the challenge of making decisions on behalf of the country, Usupashvili said the advice of the Committee Chairman, Elmar Brok, about bringing new people to power through elections is an important message.
Usupashvili provided Brok with the current political situation in Georgia. Hoping that his European colleagues would provide an unbiased evaluation for the future development of Georgia, Usupashvili said the new ruling team is actively working on new reforms to make Georgia closer to the European standards. "The parliament is ready to accept proposals, remarks, and recommendations to improve the Georgian legislation," he noted.
Changes to the Labor Code, discussions over the secret video/audio recordings, reforms in local government and judiciary, as well as the rights of minorities were among the issues Usupashvili shared with the European MPs.
He said the Georgian Dream coalition is doing its best "to build on the success of the previous government where there was success." However, they have to change the things which were done incorrectly.
According to the official webpage of the Georgian Parliament, Brok expressed concern over the detention of UNM Secretary General, Vano Merabishvili. While Usupashvili said "there are lots of cases to be investigated, which lead us to former high officials."
In the frames of his visit to Brussels Georgian Parliamentary Chairman met with the EU Trade Commissioner, Karel de Gucht who stressed the importance of the Vilnius Summit and Association Agreement for future development of Georgia.
"The current Parliament is more European than ever… We have big expectations for the Vilnius Summit," Usupashvili said, stressing that the Georgian Parliament "is committed to fulfilling its role on the legislative level, to timely ratify all necessary documents."