Renovated Svaneti Museum opened
Wednesday, July 3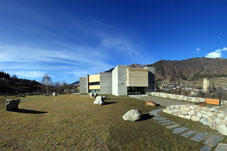 From July 1, 2013, the renovated Museum of History and Ethnography in Svaneti welcomes you. Entrance to the museum is free-of-charge for the first month. General Director of the Georgian National Museum, Davit Lortkipanidze, will personally guide visitors through the exhibition halls.
The Svaneti Museum, which is over a century old, now has modern exhibition halls, labs and depositories. At its six exhibition halls you can travel throughout the archaeology discovered in Svaneti, move to the cabinet of numismatics, familiarize yourself with the treasury of Christianity and its icons, crosses, manuscripts dating to the 9th-18th centuries, as well as enjoy the ethnographic materials.
The restoration activities at the Svaneti Museum have been carried out with the support of the Georgian Government, and in partnership with the various international foundations and organizations including UNESCO, EU Twinning Project, Prussian Cultural Heritage Foundation and the German National Museum in Berlin.