The EU Commissioner: pace of the engagement between the EU and Georgia is accelerating
By Ana Robakidze
Thursday, July 11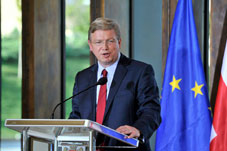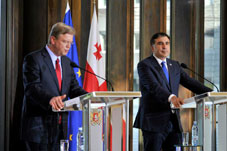 European Union Commissioner for Enlargement and European Neighbourhood Policy, Stefan Fule held a meeting with President Mikheil Saakashvili to discuss the current political situation in Georgia and relations with the European Union in Tbilisi.
Fule once again called on Georgian authorities for constructive cohabitation, while speaking at a joint press conference with President Saakashvili on Tuesday. He reminded the Georgian government that cohabitation, rule of law and an absolute respect for democratic principles is of vital importance for the EU and the organization is ready to help Georgia with the successful continuation of the process of cohabitation.
"The pace of the engagement between the European Union and Georgia is accelerating… In order to make Georgia's transition a genuine success, we still need to see further strengthening of its democratic institutions and deeper efforts to prevent polarization of the society," Fule said, adding that the Eastern Partnership Vilnius Summit in November should turn into a success for Georgia.
He said there are a lot of valuable deliverables in the pipeline, and these will contribute to making the Eastern Partnership Vilnius Summit in November a success.
The EU commissioner says that the Visa Liberalization Action Plan has also been making good progress recently. He hopes that the remaining issues concerning the economic integration part of the Association Agreement will be finalized in the coming weeks. Fule looks forward to seeing Georgia at the Vilnius Summit as a country with a "strong democracy". At his end, President Saakashvili assured the EU commissioner that Georgia will prepare for the summit.
"We are doing everything possible to put Georgia in better shape," Saakashvili said at the press conference.
While preparing for the Vilnius Summit Georgia will have to consider several EU recommendations, including the one regarding the rule of law and restoration of justice. Fule reminded the Georgian government that justice always has to be restored but the process should be free from any political influence. Commenting on Vano Merabishvili's detention, Fule pointed out that human rights must be guaranteed for everyone and no one can be above the law.
"The EU fully respects the pledge of the new government to the Georgian people to address any legacies of the past, and we trust that this will be done in full conformity with Georgia's international obligations and European values. Ensuring that justice is fair and free of any political interference is of paramount importance, but of course without allowing impunity either," EU commissioner said.
The upcoming Eastern Partnership summit in Vilnius in November is the most important event in Georgia-EU relations, as it is expected that the country will finally receive an initiated Association Agreement, as well as deep and comprehensive free trade treaty, with the EU.