4 years imprisonment for Samegrelo-Zemo Svaneti governor
By Ana Robakidze
Monday, July 15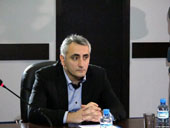 Tbilisi City Court found Samegrelo-Zemo Svaneti Governor, Tengiz Gunava, guilty of charges of embezzlement. Gunava pleaded guilty on two separate cases involving the embezzlement of 3,000 litres of petroleum and GEL 49,500 while he was serving as head of the Interior Ministry's Internal Investigations Department.
Gunava was arrested in the courtroom on July 12 and he will spend following four years in jail. However, the city court's decision might be reviewed by a higher court, as Gunava's lawyer Giorgi Oniani, plans to appeal the verdict. He says the verdict is politically motivated and he will utilize all judicial avenues so that Gunava's case reach's the European Court of Human Rights.
Members of the Parliamentary minority agree with the allegations that the former governor is innocent and he was pleaded guilty only because the court is politically influenced. Some of the minority MPs visited Gunava's family in Zugdidi, to support the former governor.
The minority accused Prime Minister Bidzina Ivanishvili in breaking his own promises. United National Movement (UNM) refers to one of the latest statements made by the PM, when he called on the law enforcement to refrain from arresting political figures and state officials during the election period.
Commenting on the court's decision to send Gunava to jail for four years, PM Ivanishvili said that the court was independent in its work. Every single detention is usually assessed by the minority as a politically motivated decision, Ivanishvili said, adding that everyone including the opposition should respect the work law enforcement carries out.
The youth movement Free Zone held a rally in front of the chief prosecutor's office demanding the immediate release of Gunava. The participants of the rally said the city court was "absolutely inadequate" when dealing with the case and the decision should be appealed immediately and Gunava should be set free.
However, both Chief Prosecutor, Archil Kbilashvili and the Head of the Supreme Court, Kote Kublashvili, deny that any political pressure was placed on the judges of the city court.
Kublashvili said in the case the verdict was made under the political influence or oppression this fact will definitely be revealed by the higher courts. "The judge valued all evidence and made his decision, I do not see any signs of political pressure," Kublashvili commented.
The chief prosecutor says his office arrested the former governor and stopped participating in the case, the office never took any part in the court's work, or in sentencing Gunava.
The prosecution against Gunava started back in November 2012. Originally the governor was also accused in the possession of illegal weapons and drugs. However, it was revealed during the investigation process that the police planted weapons and drugs on him; hence the above mentioned charges were removed. Previously Gunava was also accused of exceeding official powers and causing light bodily injuries to his driver, when he served as a as chief of police of the Samegrelo.