Disaster One Year Later: Farmers in Kakheti Reap Benefits from CARE's Rapid Emergency Response
Friday, July 19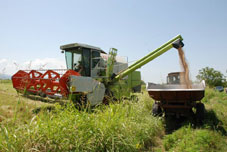 Farmers in Kakheti are collecting rich wheat harvests and reaping benefits from the disaster response project implemented by CARE International in the Caucasus (CIC). The project funded by the Embassy of the Federal Republic of Germany in Georgia targeted small scale farmers in Kakheti to cope with the detrimental effect of the disaster allowing them to rescue harvests and/or plant new crops to sustain their livelihoods.
Storm and hail hit Kakheti and Samtskhe-Javakheti regions of Georgia on July 19th, 2012. CARE with partner organizations conducted a rapid, onsite assessment of the disaster impact and identified the most critical issues and the farmers' needs. Consequently "Agricultural Rehabilitation Project for 4 villages in Kakheti" targeted the villages of Shashiani, Kalauri, Vazisubani and Vachnadziani which were most severely-affected by the disaster. The project helped 270 farming families in these villages manage storm damage to their crops by preparing them to protect undamaged plants and restore damaged crops. In cases of extreme damage to crops, seed distribution ensured that farmers still reaped a harvest before winter and minimized the impact of storm damage on their livelihoods. These efforts were combined with agricultural training and onsite technical consultancies to build farmers' capacities to manage similar disasters in the future. Additionally the project reached over 1000 families in the neighboring villages by spreading urgent agricultural extension messages to the affected population.
Mikheil Mosemgvdlishvili, 59, expected 12 tons from last year's grape harvest but did not pick a single grape due to very bad weather which destroyed his crop. Mikheil decided to team up with his neighbor to plant wheat on a 2.5 hectare area with the help of the project. This year he harvested 16 tons of wheat from the field which is twice as much as farmers grow in this region. "We can hardly meet our ends. I have no job, no pension. Farming is all I can do to support my family. Last year was a disaster! It snowed! All my vintage was destroyed…Look at this wheat ear! It is so full!" he said stressing that farmers used to circulate and replant the same type of seeds for years thus overtaxing the soil. "I will spend money on recovering my vintage and will plant wheat next year too," he concluded.
Thomas Reynolds, Mission Director of CIC, said: "I recall assessing the damage around Telavi on the day after storm. Farm families were devastated. Not only had they lost their source of income, but their trees and vines were severely impacted. We knew instantly that proposed cash giveaways would replace lost earnings, but a longer-term strategy was needed to save their orchards and vineyards. The Embassy of Germany saw our vision and provided the essential financial support to execute our plan."
"The success story of Kakhetian farmers demonstrates the importance of well-planned and strategic emergency response," said Vakhtang Piranishvili, Project Director. "Despite the limited budget and the short duration, we managed to provide the effective assistance which is more sustainable and has a lasting impact."
Agricultural Rehabilitation Project for 4 villages in Kakheti was implemented from August to December in 2012 with a budget of EUR 50,000.