PM Ivanishvili meets his Polish counterpart in Warsaw
By Ana Robakidze
Monday, July 22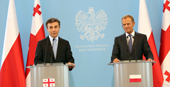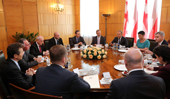 Georgian Prime Minister Bidzina Ivanishvili paid his first official visit to Poland and held a meeting with his Polish counterpart Donald Tusk. The PMs discussed EU enlargement policy, which is actively supported by Poland and Georgia's aspiration to joint Euro-Atlantic family. The first part of the meeting was held behind closed doors, followed by the meeting of the wider format attended by all members of the Georgian delegation.
Speaking at a joint press conference after the meeting Polish PM said he is confident in the need of supporting Georgia on its way to the EU and especially at the upcoming upcoming Vilnius summit of the Eastern Partnership. Tusk stated that Poland remains a close partner to Georgia regardless of who is in power in these countries. The Polish PM stated that regardless of political changes in Georgia, the friendship built between the two countries is permanent.
Tusk said that the meting strengthened his beliefs in the development of democratic processes in Georgia.
"I am sure PM Ivanishvili will guarantee the protection of European standards and Europe will receive everything it is expecting from Georgia," the Polish PM stated.
PM Ivanishvili thanked the Polish government for supporting Georgia and its integration process with the EU, as well as for participating in the EU observer mission in Georgia. Ivanishvili said that he and the Polish PM discussed the issues of future cooperation, as well as economic, humanitarian and cultural relations between the two countries.
"I am glad I had a chance to meet my Polish counterpart and discuss various issues with him... Our meeting gives us another opportunity to deepen our relations and I will be glad if Poland remains this supportive in the future," Ivanishvili said.
Ivanishvili also invited his counterpart to Georgia. Tusk said that he will gladly accept the invitation and visit the country in the near future.
The Georgian PM also had meetings in with the speakers of the lower and upper houses of Polandís parliament, as well as with the Chairman of the Sejm. Ivanishvili stated that the meeting with the Polish MPs that it is important to deepen relations between the law-making bodies of the two states.
PM Ivanishvili arrived in Warsaw after holding talks with the Lithuanian leadership in Vilnius on July 18th.
According to Ivanishvili Georgian government attaches great importance to the experience in the integration of Poland into the European and Euro-Atlantic structures. "There was very warm and friendly meeting. I was open and got a lot of good advice. If you assess the situation and the meetings that we had in Poland, of course, there is a different view, both in Lithuania and Poland," PM said, summing up his visits.