International search announces suspect in Kochalidze's murder
By Ana Robakidze
Friday, July 26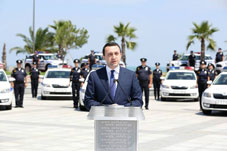 The Georgian Ministry of Internal Affairs (MIA) announced on July 27th that an investigation into the murder of 16 year old girl Mariam Kochalidze has already begun and a suspect has been identified.
The Ministry reports that Iranian citizen Mohammed Ruintan is the primary suspect in Kochalidze's murder. According to the police Ruintan entered Georgia on June 23rd from Sarpi and left the country on July 23rd at the same checkpoint.
The Ministry also released video footage from the Sarpi checkpoint, showing the suspect crossing the Georgian-Turkish frontier.
According to Interior Minister Irakli Garibashvili, Turkish police are ready to help Georgian police detain the suspect.
Valerian Telia, a representative of the Adjaran police force, stated that Interpol will also set up an international search for Ruintan. According to Telia the Iranian citizen spent about a month living under a bridge in Batumi Boulevard.
However Georgian Dream MP Levan Berdzenishvili claims that the MIA has violated the presumption of innocence by being too quick in publishing personal details of the suspect. Berdzenishvili fears that the MIA is not necessarily acting in the interests of human rights and the rule of law.