UNM's David Bakradze wins primaries
By Ana Robakidze
Monday, July 29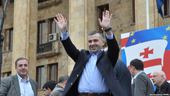 The United National Movement (UNM) has finalized its primary elections which revealed their presidential candidate. David Bakradze will be the candidate from the UNM in the presidential elections in November. He also became the leader of an online survey the party had launched.
Four contenders took part in the UNM primaries, held in six towns of Georgia. Bakradze won in all six towns, including in the final one which was held in capital Tbilisi on July 27.
Bakradze has challenged Georgian Dream candidate Giorgi Margvelashvili to a debate. He explained that debates are an established practice between the candidates and it will be natural to arrange debates between the two candidates holding the highest support in society.
"Considering the previous practice, we will have debates with other candidates. I pay my respect to all the other candidates, but it is crucially important that candidates of the two main political powers Georgian Dream and UNM show the population through civilized, professional debates, how they offer to solve problems," Davit Bakradze said in his speech.
Bakradze stressed the fact that Margvelashvili is not an experienced politician. He will have to prove that he is able to solve the existing problems and will not be simply a puppet of the government if he wins the elections, Bakrdaze said. The UNM candidate said one-on-one debates will be Margvelashvili's a chance to prove that being a close friend of PM Bidzina Ivanishvili is not his only asset.
Bakradze is going to start a tour around the country and "listen to people."
"We will talk about how the new president should help people," he said.
One of the contenders of the primaries, Giorgi Baramidze, said that the UNM members had made the correct choice and David Bakradze is the person Georgia needs now. Baramidze addressed UNM supporters after the results were announced and asked them to be more active to make sure the UNM candidate wins the elections, which shall be a great success for Georgia. "Dato has all the skills a president should be granted with. He is a true patriot and a person the country needs today," Baramidze stated.
The US ambassador to Georgia, Richard Norland commented on the result of the primaries and said that the election campaign in Georgia is going to be very interesting and full of competition.
However, along with Tbilisi primaries an anti-UNM demonstration was held outside Expo Georgia. Representatives of the party Free Georgia and former political prisoners were protesting against the UNM primaries, stating that the party had no right to stay in politics. "We believe that the UNM is a criminal organization... for over the last nine years they have turned lives of Georgian into the hell," the leader of the Free Georgia, Kakha Kukava stated.
Several activists even tried to enter Expo Georgia territory but police officers prevented their actions. Also a small incident took place between the protesters and the UNM member Giorgi Kandelaki, as a result three individuals were arrested by the police. Later they were released .s