Status of universities to change
By Tatia Megeneishvili
Thursday, August 1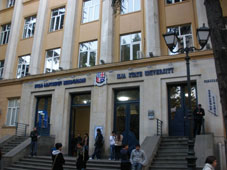 The draft law for which President Mikheil Saakashvili used his veto power on May 13, 2013 and returned it to parliament for future discussion, was affirmed by parliament and signed by Prime Minister Ivanishvili on July 29.
This draft law considers turning the state universities from non-commercial legal entities into legal entities of public law by September 15, 2013. The legal entity of public law is entitled to carry out the activities defined by the law; while a non-commercial entity can carry out activities that are not prohibited by the law.
An entity of public law can be created only for those public purposes and functions that are not included in the state administration bodies. If it starts entrepreneurial activities, the appropriate public body shall decide on the reorganization or liquidation of this entity.
Thus the status of Ilia State University, Tbilisi State University, Georgian Technical University, Akaki Tsereteli State University, Shota Meskhia Zugdidi State Teaching University, Tbilisi State Medical University and Sukhumi State University, will change.
Head of Ilia State University, Gigi Tevzadze, said the government had promised that the university would not change their status against their will. However, this change is against the university's will. "After changing the status, the Ministry [of Education and Science] can abolish any decision made by a university– for example when a university needs a loan for certain activities it must be approved by the ministry of finance," Tevzadze said, adding this can also cause an increase in the prices on books.
He said non-commercial legal entities can do everything that is not forbidden, while the legal entities of public law are only capable of doing what is permitted. According to Tevzadze, this will have a negative effect on the development of universities, because the more independence university has, the more ability it has for future development. "We only expressed our resistance concerning this issue," he said.
According to the former Deputy Minister of Education, David Zurabishvili, the news status will cause no organizational changes. "From the very beginning we said that state universities must be entities of public law, but with some specifics, that means that universities would have more freedom in agricultural and property relations than it would have with common entities of public law," he marked.
In her early interview with www.sazogadoeba.ge, Eliso Chapidze, Deputy Chairperson of Education, Science and Culture Committee, said the only limitation that can be connected with the university's transformation into the entity of public law, is the limitation of the type of business activities that are not related to the education or manufacture business.
In an interview with the same media outlet, Simon Janashia, a Professor at Ilia State University, said: "If the academic sphere is not free, in this case, any attempt of criticism in the university will be evaluated as a politically-motivated human endeavor." He also said autonomy must also guarantee that there is a development opportunity within the university. Janashia thinks that unfortunately, this ability is killed by government.
According to Janashia, this change puts public and private universities into an unequal situation. Private universities are given much more power; they can select their own qualified staff, whereas state universities cannot. Consequently, private universities, where more socially privileged students study, can artificially receive more privileges of freedom granted by the state.