Georgian opposition fears country will face economic crisis soon
By Ana Robakidze
Friday, August 2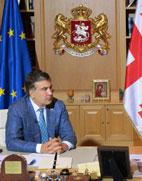 The National Statistics Office of Georgia (GEOSTAT) has published a study estimating economic growth in 2013. GEOSTAT concluded in the report that the economic situation in Georgia has gotten worse. GEOSTAT produces monthly rapid estimations of real GDP growth using administrative data on VAT taxpayers' turnover, fiscal and monetary statistics.
According to preliminary data released on July 31st, Georgia's real GDP grew 1.8% year-on-year in the first half of 2013 but the economy contracted - 0.8%. According to GEOSTAT the estimated real GDP growth in the second quarter of 2013 equaled 1.3%.
President Mikheil Saakashvili has called on the government to cooperate with the opposition to prevent a total collapse of the country's economy. He says the new government has set a new "world record" for turning expected 11% GDP growth into -0.8% growth.
"We are ready to work with the current government; we are ready to give advice. If we do not do it, it will have long-term devastating consequences for Georgia. We can prevent it only if we sit together, take this threat seriously and hold each others' hands to prevent a collapse." the president said. He added that the situation is not hopeless because of tourism and the several billion dollars still in the treasury, but Saakashvili fears the money is not being spent wisely and tourism also appears to be in a difficult situation.
"The money we have left is being spent on senseless projects."Saakashvili explained. He added stated that Prime Minister Bidzina Ivanishvili's promises were "unrealistic" from the very beginning. Saakashvili warned that the creation of private investment funds will not improve the economic situation.
"I want to tell people that the promises made by the PM with regards to some funds are absolutely unrealistic. The economy will not improve through these funds; on the contrary, they will harm the economy." Saakashvili stated.
The President called on the Prime Minister to use his own funds to invest money in the country's economy. Saakashvili urged the current government to resume suspended infrastructure projects, construction of ports and to stop issuing "harmful" laws.
However, the government is sure that there is no threat of economic crisis and calls on the public to remain calm.
Minister of Infrastructure and Regional development Davit Narmania says the economic situation will improve by the end of the year, as the second half of the year is always more active in terms of economic activity.
The government has assured people that there will be no state budget cuts and no important state projects will be suspended.
The GEOSTAT report does not surprise economic experts. Decreasing investment and GDP growth was expected by most economic analysts as potential investors are still closely monitoring the political situation in Georgia and are likely waiting until after the upcoming presidential election to invest money in the country.