No more Georgian advertisements on the BBC and CNN
By Keti Arjevanidze
Friday, August 2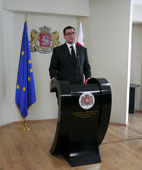 Commercials about Georgia will not appear on the BBC, CNN and other leading broadcasters across the world. According to the new head of the Georgian National Tourism Administration (GNTA), Giorgi Sigua, commercials on international channels cost a lot of money but are not that effective.
Sigua said even though CNN is a high-rating internationally recognized TV channel, its audience is not the target market for Georgia. American tourists are unlikely to visit Georgia in large numbers, considering the distance between the countries, the cost of tickets and the negative image of the country (if any) that most Americans have.
Even though BBC is more oriented towards European countries, Sigua thinks the GNTA should be focused on attracting more tourists from Russia, Belarus, Ukraine, Poland, Turkey and Azerbaijan and other countries which have direct flights to Georgia.
Sigua explained that by calculating the gross rating point (GRP) it is possible to measure the size of an audience reached by a specific advertisement, whether it be online, on TV or on a billboard. He said it is better if 10 out of 12 viewers visit the country, rather than only one out of a million. Sigua said that several minutes about Georgia on a high-profile international TV channels are not worth the money it costs to air them. He added that channels who are interested in advertisements about Georgia can spend their own money on buying them.
Explaining that the GNTA has a modest budget, Sigua said the money they spend belongs to the state and thus "every dollar spent should bring more dollars back."
The former head of GNTA, Maia Sidamonidze, denied spending "colossal amounts" of money on the commercials that aired on the BBC or CNN. According to Sidamonidze, CNN prepared one week's reportage about Georgia and short commercials were simultaneously aired and included in the "package." Sidamonidze thinks that despite the high cost of the commercials "they were profitable for Georgia."
President Mikheil Saakashvili said the only thing that "makes alive Georgia" is tourism. From Saakashvili's point of view GNTA has made the wrong decision. According to Saakashvili, commercials on the BBC and CNN played an important role in promoting Georgia worldwide.
Georgian Dream MP Tamar Kordzaia justified Sigua's decision. Kordzaia said the commercials in question did not produce the results "that commercials should give".
Public relations specialist Archil Gamzardia thinks the right way for attracting tourists is to improve service and then prepare suitable commercials for the selected target audience. According to Gamzardia, the commercials aired on the BBC and CNN were more political then touristic.
One way or another, GNTA plans to attract more tourists by spending less on advertisements.